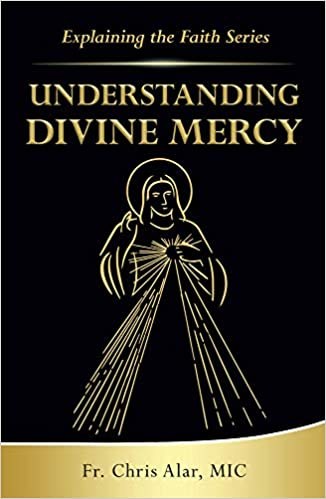 PRODUCT CODE: 9781596145399
Divine Mercy
Understanding Divine Mercy
€14.95
Product Details
Extent: Paperback
Pages: 171
Size: 214 mm x 140 mm
Publisher: Marian Press
Customer Reviews (1)
Customer Reviews
Average rating:
---
Understanding Divine Mercy
This book on Divine Mercy by Fr Chris Alar brings together in a very attractive format the Marian Fathers' mission to explain and spread the Divine Mercy message. The print is very comfortable to read and the book explains all aspects of Divine Mercy and the history of the message from the early days of St Faustina's mission as the apostle of the Divine Mercy message to how each person can avail of Christ's mercy and the importance of that message in a very troubled world. It is the ABC of what Divine Mercy is all about and how we can avail of its merits and spread the message of God's mercy for all.
— Niall McNamara
Delivery
Click and Collect - Free
Click & Collect is available across Ireland and Northern Ireland in our Veritas stores. We will contact you when your item(s) are ready for collection. Please visit your branch after you receive contact from us that your items are available to collect. The order will be ready for you within 2-5 working days, subject to opening hours, order volumes, if the item is in stock and time order is placed.
Standard Express Delivery
Complimentary shipping within Ireland & Northern of Ireland is available on orders over €50, delivery fees will be added according to the area of delivery, as described below:
| Country Zone | Under €50 | Over €50 | TimeFrame |
| --- | --- | --- | --- |
| Ireland | €6.50 | Free! | 3-7 working days |
| Northern Ireland | €6.50 | Free! | 3-7 working days |
| UK | €12.00 | €15.00 | 3-7 working days |
| Europe | €17.00 | €25.00 | 3-7 working days |
| USA & Canada | €35.00 | €50.00 | 7-14 working days |
| Rest of the World | €50.00 | €50.00 | 7-21 working days |
| **Trade | and | School | Customers** |
| --- | --- | --- | --- |
| Country Zone | Under €500 | Above €500 | TimeFrame |
| Ireland | €6.00 | Free! | 3-7 working days |
| Northern Ireland | €6.00 | Free! | 3-7 working days |
| UK | €12.00 | Free! | 3-7 working days |
Please Note:
• Click and collect orders are "free" as there is no shipping involved.
• If the order after discount is applied is below €50 or €500 (trade or School orders), shipping will be charged.
• EUA, Canada and Rest of the World shipping charges are for parcels with maximum weight of 2kg.
• These time frames are a guide and shipping times may vary, especially at busy periods.
• Please allow a few days leeway for personalised products or pre-orders.
• We are aware of some shipping delays throughout Europe and the USA caused by unforcing circusntances or territorial border control restrictions. This is out of our control. Please allow a few days leeway for your delivery.
• Subject to placing your order before 12:30pm. Does not apply to pre-ordered items.
• Check on our Delivery Policy page, the delivery areas. We do not deliver to Channel Islands or the Isle of Man.
Description
Finally, the entire Divine Mercy message and devotion is summarized in one, easy-to-read book! Explaining the teaching of Jesus Christ as given to St. Faustina, Understanding Divine Mercy by Fr. Chris Alar, MIC, has it all. Written in his highly conversational and energetic style, this first book in his Explaining the Faith series will deepen your love for God and help you understand why Jesus Called Divine Mercy "mankind's last hope of salvation."