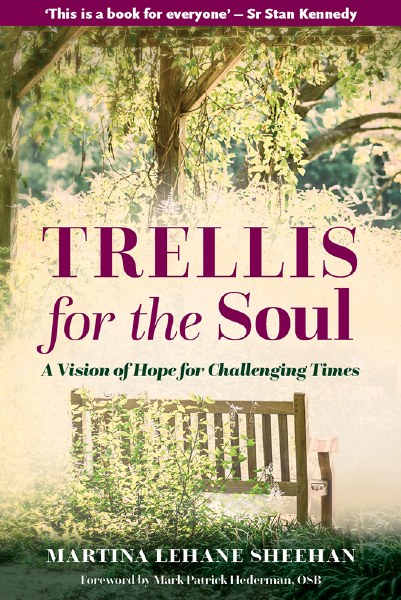 PRODUCT CODE: 9781847309570
Sale
Trellis for the Soul
Customer Reviews (2)
Customer Reviews
Average rating:
---
Trellis for the soul
I have enjoyed some of Martina's other books so I attended the launched of this book I pre ordered it. It arrived very promptly once I received notification and very happy
— Valerie Murray
---
Trellis for the Soul
This is an excellent book. Just what we need in these difficult times. It offers us a way of supporting ourselves and helps us to realise that we are greater than our worst fears and anxieties.
— Rosarii Beirne
Delivery
Click and Collect - Free
Click & Collect is available across Ireland and Northern Ireland in our Veritas stores. We will contact you when your item(s) are ready for collection. Please visit your branch after you receive contact from us that your items are available to collect. The order will be ready for you within 2-5 working days, subject to opening hours, order volumes, if the item is in stock and time order is placed.
Standard Express Delivery
Complimentary shipping within Ireland & Northern of Ireland is available on orders over €50, delivery fees will be added according to the area of delivery, as described below:
| Country Zone | Under €50 | Over €50 | TimeFrame |
| --- | --- | --- | --- |
| Ireland | €6.50 | Free! | 3-7 working days |
| Northern Ireland | €6.50 | Free! | 3-7 working days |
| UK | €12.00 | €15.00 | 3-7 working days |
| Europe | €17.00 | €25.00 | 3-7 working days |
| USA & Canada | €35.00 | €50.00 | 7-14 working days |
| Rest of the World | €50.00 | €50.00 | 7-21 working days |
| **Trade | and | School | Customers** |
| --- | --- | --- | --- |
| Country Zone | Under €500 | Above €500 | TimeFrame |
| Ireland | €6.00 | Free! | 3-7 working days |
| Northern Ireland | €6.00 | Free! | 3-7 working days |
| UK | €12.00 | Free! | 3-7 working days |
Please Note:
• Click and collect orders are "free" as there is no shipping involved.
• If the order after discount is applied is below €50 or €500 (trade or School orders), shipping will be charged.
• EUA, Canada and Rest of the World shipping charges are for parcels with maximum weight of 2kg.
• These time frames are a guide and shipping times may vary, especially at busy periods.
• Please allow a few days leeway for personalised products or pre-orders.
• We are aware of some shipping delays throughout Europe and the USA caused by unforcing circusntances or territorial border control restrictions. This is out of our control. Please allow a few days leeway for your delivery.
• Subject to placing your order before 12:30pm. Does not apply to pre-ordered items.
• Check on our Delivery Policy page, the delivery areas. We do not deliver to Channel Islands or the Isle of Man.
Description
In Trellis for the Soul, psychotherapist and retreat director Martina Lehane Sheehan provides a framework for anyone struggling to navigate the dizzying maze of twenty-first-century life. Drawing on wisdom from many ancient sources, including the Christian, Desert and Celtic mystical traditions, as well as from contemporary psychology and her own experiences hosting workshops across the country, the author invites the reader on a profound journey of spiritual development.
As an antidote to the many stresses and uncertainties of these times, Trellis for the Soul explores real ways of cultivating a meaningful spiritual life where reflection, quietude and silence can combat anxiety, stress and an always-switched-on mindset. This book guides us to retrieve what is lost in our spiritual lives and encourage whatever is real, truthful and life-giving to grow and flourish again from the roots.
Divided into two parts, Trellis for the Soul begins by honing in on the modern malaise and explores how, by refocusing attention on a more soulful rhythm of life, we can become more creative, spontaneous and attuned to the natural environment with which we are inextricably linked. In part two, readers are invited to adopt soul-strengthening practices that will create a supportive trellis, especially for times of uncertainty and new beginnings.

About the Author
Martina Lehane Sheehan is an accredited psychotherapist, spiritual director and author. Her four previous books are: Seeing Anew; Whispers in the Stillness; Surprised by Fire; and Waiting in Mindful Hope.

Praise for Trellis for the Soul
'This book provides a true scaffolding for the spiritual in our everyday lives. It will be a great support for many people.'
– Mary Kennedy

'This book provides a useful guide towards freedom for those living in frustration with conventional structures and yet seeking a satisfying spiritual life. Combining wisdom from every possible source, it does in the twenty-first century what St Benedict did in the sixth century. A very impressive and timely presentation.'
– Mark Patrick Hederman, OSB

'This is a book for everyone. While rooted in the Christian tradition, the author has drawn generously on other faith and wisdom traditions and blended them in with modern psychology in a very creative and rich way. It is a very beautiful book. I strongly recommend it.'
– Sr Stan Kennedy

'Martina Lehane Sheehan has distilled the wisdom of the monastery to create a relevant, accessible programme for personal and communal growth. Trellis for the Soul is a practical, down-to-earth guide for anyone seeking a more contemplative, balanced, and joyful life.'
– Carl McColman, author of Eternal Heart and Unteachable Lessons.