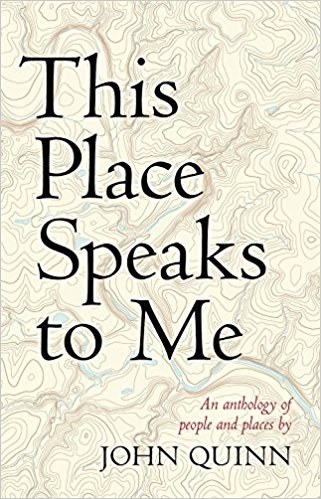 PRODUCT CODE: 9781847307477
Sale
This Place Speaks To Me
Product Details
Pages: 256
Size: 218 mm x 147 mm
Publisher: Veritas Publications
Customer Reviews (1)
Customer Reviews
Average rating:
---
As appeared in Intercom, February 2017
Former RTÉ broadcaster and author John Quinn is no stranger to the many who love radio and in particular those who savour the type of reflective and insightful reminiscences in which he specialises. In this rich and varied anthology he weaves together the stories told by an eclectic group of Irish artists and personalities with whom he has come into contact and who each explore the power of a place that has influenced their lives – for good or ill. From Seamus Heaney visiting Anahorish in south Derry, which inspired his early work, to former Governor John Lonergan, who guided the radio producer through Mountjoy Prison giving a workman-like account and analysis of its structure and inhabitants. Muriel McCarthy, Keeper of Marsh's library, the oldest public library in Ireland, recalls its founder, Narcissus Marsh who wanted, in the 17th century, to give the citizens of Dublin somewhere to study the great ideas of the time. On the other end of the spectrum is the short horror story of Daingean Reformatory as experienced by musician and actor Don Baker. Interspersed between these guided tours are John Quinn's own life moulding experiences in places like Auschwitz and Ephesus and his ancestral homeland of Drumacon in County Monaghan. A fascinating and in some respects haunting book of places.
— Veritas Publishing
Delivery
Click and Collect - Free
Click & Collect is available across Ireland and Northern Ireland in our Veritas stores. We will contact you when your item(s) are ready for collection. Please visit your branch after you receive contact from us that your items are available to collect. The order will be ready for you within 2-5 working days, subject to opening hours, order volumes, if the item is in stock and time order is placed.
Standard Express Delivery
Complimentary shipping within Ireland & Northern of Ireland is available on orders over €50, delivery fees will be added according to the area of delivery, as described below:
| Country Zone | Under €50 | Over €50 | TimeFrame |
| --- | --- | --- | --- |
| Ireland | €6.50 | Free! | 3-7 working days |
| Northern Ireland | €6.50 | Free! | 3-7 working days |
| UK | €12.00 | €15.00 | 3-7 working days |
| Europe | €17.00 | €25.00 | 3-7 working days |
| USA & Canada | €35.00 | €50.00 | 7-14 working days |
| Rest of the World | €50.00 | €50.00 | 7-21 working days |
| **Trade | and | School | Customers** |
| --- | --- | --- | --- |
| Country Zone | Under €500 | Above €500 | TimeFrame |
| Ireland | €6.00 | Free! | 3-7 working days |
| Northern Ireland | €6.00 | Free! | 3-7 working days |
| UK | €12.00 | Free! | 3-7 working days |
Please Note:
• Click and collect orders are "free" as there is no shipping involved.
• If the order after discount is applied is below €50 or €500 (trade or School orders), shipping will be charged.
• EUA, Canada and Rest of the World shipping charges are for parcels with maximum weight of 2kg.
• These time frames are a guide and shipping times may vary, especially at busy periods.
• Please allow a few days leeway for personalised products or pre-orders.
• We are aware of some shipping delays throughout Europe and the USA caused by unforcing circusntances or territorial border control restrictions. This is out of our control. Please allow a few days leeway for your delivery.
• Subject to placing your order before 12:30pm. Does not apply to pre-ordered items.
• Check on our Delivery Policy page, the delivery areas. We do not deliver to Channel Islands or the Isle of Man.
Description
In this wide-ranging, globe-trotting anthology, a host of Irish artists and personalities talk to John Quinn about the locations that have, for good or for ill, had a profound and lasting influence on their lives. Travel with, among others, Seamus Heaney as he visits Anahorish, the townland in South Derry that inspired much of his early work; accompany actor and bluesman Don Baker on a poignant return to Daingean Reformatory in County Offaly, where he spent two gruelling years as a boy; follow storyteller Eibhlís de Barra on a gloriously colourful stroll through the inner-city Cork of her childhood.

Based on material from the RTÉ radio series of the same name, This Place Speaks to Me is a rich, deeply evocative collection of interviews and is punctuated by John Quinn's own reflections on life-changing journeys he has made to places as diverse as Auschwitz and Ephesus. From 'the lived in, rolled up' landscape of Westmeath in the company of artist Paddy Graham, to the storied environs of Anne and Catherine Gregory's Coole Park, This Place Speaks to Me invites the reader on a journey around Ireland, and beyond, to explore the inextricable links between people, place and personal growth.