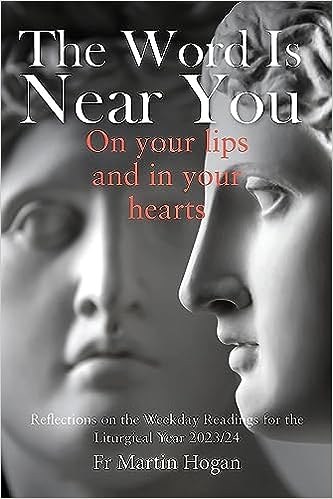 PRODUCT CODE: 9781788126472
2024
The Word is Near You, On Your Lips and In Your Heart - Reflections on the Weekday Readings for the Liturgical Year 2023-2024
€19.95
Product Details
Extent: Paperback
Pages: 304
Size: 210 mm x 140 mm
Publisher: Messenger Publications
Delivery
Click and Collect - Free
Click & Collect is available across Ireland and Northern Ireland in our Veritas stores. We will contact you when your item(s) are ready for collection. Please visit your branch after you receive contact from us that your items are available to collect. The order will be ready for you within 2-5 working days, subject to opening hours, order volumes, if the item is in stock and time order is placed.
Standard Express Delivery
Complimentary shipping within Ireland & Northern of Ireland is available on orders over €100, delivery fees will be added according to the area of delivery, as described below:
Country Zone
Under €100
Over €100
TimeFrame
Ireland
€6.50
Free!
3-7 working days
Northern Ireland
€6.50
Free!
3-7 working days
| Country Zone | Under €50 | Over €50 | TimeFrame |
| --- | --- | --- | --- |
| Europe | €17.00 | €25.00 | 3-7 working days |
| USA & Canada | €35.00 | €50.00 | 7-14 working days |
| Rest of the World | €50.00 | €50.00 | 7-21 working days |
| **Trade | and | School | Customers** |
| --- | --- | --- | --- |
| Country Zone | Under €500 | Above €500 | TimeFrame |
| Ireland | €6.50 | Free! | 3-7 working days |
| Northern Ireland | €6.50 | Free! | 3-7 working days |
| UK | €12.00 | Free! | 3-7 working days |
Please Note:
• Click and collect orders are "free" as there is no shipping involved.
• If the order after discount is applied is below €100 or €500 (trade or School orders), shipping will be charged.
• EUA, Canada and Rest of the World shipping charges are for parcels with maximum weight of 2kg.
• These time frames are a guide and shipping times may vary, especially at busy periods.
• Please allow a few days leeway for personalised products or pre-orders.
• We are aware of some shipping delays throughout Europe and the USA caused by unforcing circusntances or territorial border control restrictions. This is out of our control. Please allow a few days leeway for your delivery.
• Subject to placing your order before 12:30pm. Does not apply to pre-ordered items.
• Check on our Delivery Policy page, the delivery areas. We do not deliver to Channel Islands or the Isle of Man.
Description
The reflections in this book are based predominantly on the gospel readings for the weekdays of the coming liturgical year, 2023/24, with occasional references to the first reading. They follow the sequence of the weekdays of the liturgical year, beginning with the Monday of the first week of Advent on the 4th of December. In the course of the liturgical year, the gospel readings present us with a significant selection of the words and deeds of Jesus from all four gospels. In and through these gospel readings we encounter the living word of the risen Lord to his church. There is rich fare here to nourish our faith life and to help us to grow in our knowledge and love of the Lord. These short reflections attempt to listen to the gospel readings on their own terms while showing how they can continue to speak to our lives today. Many people feel drawn to basing their prayer on the Scriptures, in particular the gospels. It is hoped that these reflections will serve as a help to prayer. They may also be of service to priests who seek to offer a short reflection on the gospel reading of the day in the context of the Eucharist. Where there is a weekday Liturgy of the Word, with or without Holy Communion, they can be read as a reflection on the readings. On most week days, the same gospel reading is proclaimed in the church throughout the world. To read and reflect upon the gospels for the weekdays of the liturgical year is to go on a spiritual journey with the universal church.Those who travel this journey will discover that the Lord is very near to them in and through his word. Our baptismal calling is to allow the Lord's word to take root in our hearts and to bear fruit in our lives.