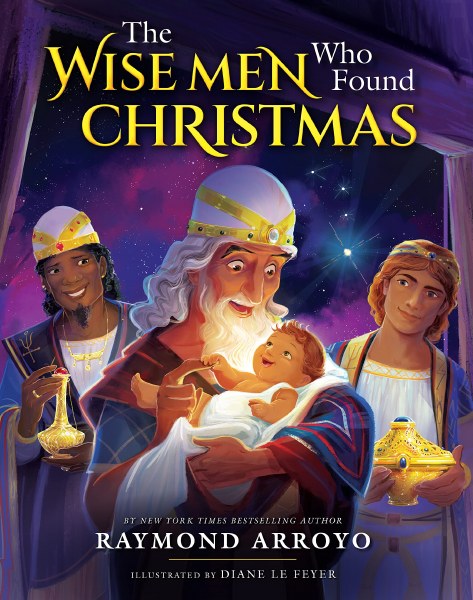 PRODUCT CODE: 9781644136201
Christmas
The Wise Men Who Found Christmas
€17.95
Product Details
Extent: Hardcover
Pages: 40
Size: 286 mm x 229 mm
Publisher: Sophia Institute Press
Delivery
Click and Collect - Free
Click & Collect is available across Ireland and Northern Ireland in our Veritas stores. We will contact you when your item(s) are ready for collection. Please visit your branch after you receive contact from us that your items are available to collect. The order will be ready for you within 2-5 working days, subject to opening hours, order volumes, if the item is in stock and time order is placed.
Standard Express Delivery
Complimentary shipping within Ireland & Northern of Ireland is available on orders over €100, delivery fees will be added according to the area of delivery, as described below:
Country Zone
Under €100
Over €100
TimeFrame
Ireland
€6.50
Free!
3-7 working days
Northern Ireland
€6.50
Free!
3-7 working days
| Country Zone | Under €50 | Over €50 | TimeFrame |
| --- | --- | --- | --- |
| Europe | €17.00 | €25.00 | 3-7 working days |
| USA & Canada | €35.00 | €50.00 | 7-14 working days |
| Rest of the World | €50.00 | €50.00 | 7-21 working days |
| **Trade | and | School | Customers** |
| --- | --- | --- | --- |
| Country Zone | Under €500 | Above €500 | TimeFrame |
| Ireland | €6.50 | Free! | 3-7 working days |
| Northern Ireland | €6.50 | Free! | 3-7 working days |
| UK | €12.00 | Free! | 3-7 working days |
Please Note:
• Click and collect orders are "free" as there is no shipping involved.
• If the order after discount is applied is below €100 or €500 (trade or School orders), shipping will be charged.
• EUA, Canada and Rest of the World shipping charges are for parcels with maximum weight of 2kg.
• These time frames are a guide and shipping times may vary, especially at busy periods.
• Please allow a few days leeway for personalised products or pre-orders.
• We are aware of some shipping delays throughout Europe and the USA caused by unforcing circusntances or territorial border control restrictions. This is out of our control. Please allow a few days leeway for your delivery.
• Subject to placing your order before 12:30pm. Does not apply to pre-ordered items.
• Check on our Delivery Policy page, the delivery areas. We do not deliver to Channel Islands or the Isle of Man.
Description
In this thrilling, visual adventure capturing the wonder of the Christmas season, New York Times bestselling author Raymond Arroyo shares the true, hidden story of the mysterious Magi, who risked everything to discover the truth. Based on new historical evidence, The Wise Men Who Found Christmas is the miraculous, untold tale of three seekers who followed a star and found themselves in the middle of the greatest story ever told. Stunningly illustrated by Diane Le Feyer, this enchanting family keepsake is sure to become part of your Christmas tradition – and a reminder that chasing truth is often the greatest adventure of all.

About the Author:
Raymond Arroyo is the New York Times Best-selling author of the Will Wilder series (Random House), an international broadcaster and producer. He is a Fox News Contributor and has formerly worked for CNN and the Associated Press. He is the Founding News Director of EWTN News and host of "The World Over Live.