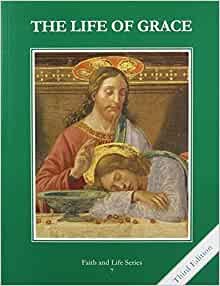 PRODUCT CODE: 9781586175696
The Life of Grace: Student TextBook Grade 7 (Faith & Life)
€17.50
Delivery
Click and Collect - Free
Click & Collect is available across Ireland and Northern Ireland in our Veritas stores. We will contact you when your item(s) are ready for collection. Please visit your branch after you receive contact from us that your items are available to collect. The order will be ready for you within 2-5 working days, subject to opening hours, order volumes, if the item is in stock and time order is placed.
Standard Express Delivery
Complimentary shipping within Ireland & Northern of Ireland is available on orders over €50, delivery fees will be added according to the area of delivery, as described below:
| Country Zone | Under €50 | Over €50 | TimeFrame |
| --- | --- | --- | --- |
| Ireland | €6.50 | Free! | 3-7 working days |
| Northern Ireland | €6.50 | Free! | 3-7 working days |
| UK | €12.00 | €15.00 | 3-7 working days |
| Europe | €17.00 | €25.00 | 3-7 working days |
| USA & Canada | €35.00 | €50.00 | 7-14 working days |
| Rest of the World | €50.00 | €50.00 | 7-21 working days |
| **Trade | and | School | Customers** |
| --- | --- | --- | --- |
| Country Zone | Under €500 | Above €500 | TimeFrame |
| Ireland | €6.00 | Free! | 3-7 working days |
| Northern Ireland | €6.00 | Free! | 3-7 working days |
| UK | €12.00 | Free! | 3-7 working days |
Please Note:
• Click and collect orders are "free" as there is no shipping involved.
• If the order after discount is applied is below €50 or €500 (trade or School orders), shipping will be charged.
• EUA, Canada and Rest of the World shipping charges are for parcels with maximum weight of 2kg.
• These time frames are a guide and shipping times may vary, especially at busy periods.
• Please allow a few days leeway for personalised products or pre-orders.
• We are aware of some shipping delays throughout Europe and the USA caused by unforcing circusntances or territorial border control restrictions. This is out of our control. Please allow a few days leeway for your delivery.
• Subject to placing your order before 12:30pm. Does not apply to pre-ordered items.
• Check on our Delivery Policy page, the delivery areas. We do not deliver to Channel Islands or the Isle of Man.
Description
The Faith and Life Third Edition series is a minor update to the Revised Edition series so that all text and liturgical references conform to the implementation of the new Roman Missal. Revised Edition teachers' manuals may continue to be used with the Third Edition text and activity books as the changes are relatively few.   A list of changes with side by side textual comparisons to aid teachers using the Revised Edition teacher's manual is available from the Faith and Life series website. 

This Faith & Life student textbook incorporates the four principal components of catechesis: the Creed, the Commandments, the Sacraments and Liturgy, Prayer and Scripture. But besides giving a clear and comprehensive presentation of our faith, the student textbook is rich in artwork, both original and classical.

THEME: Grace as our link with God, his gift to us to bring us to Himself and his eternal life, with an emphasis on transmission of grace through the seven sacraments and on God's loving gifts of revelation, of himself through the prophets, the Incarnation, and the Church. The role of grace in developing the virtues.

SEQUENCE: Part 1: God Reveals Himself. The revelation of God through creation, the prophets, and to the chosen people. Part 2: God becomes Man. Jesus, true God and true Man, Priest and Sacrifice. Part 3: God Shares His Life. The operation of grace in our lives, in developing the virtues especially through each sacrament.

AIM: To help the young person treasure the sacraments as indispensable to a full Christian life of love and truth. To understand how grace works in our soul and its relation to practicing the virtues and to appreciate our gifts of reason and faith.