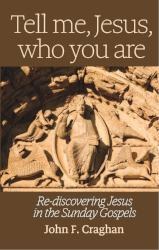 PRODUCT CODE: 9781905604364
Tell Me, Jesus, Who You Are
€12.99
Product Details
Extent: Paperback
Pages: 132
Publisher: Dominican Publications
Delivery
Click and Collect - Free
Click & Collect is available across Ireland and Northern Ireland in our Veritas stores. We will contact you when your item(s) are ready for collection. Please visit your branch after you receive contact from us that your items are available to collect. The order will be ready for you within 2-5 working days, subject to opening hours, order volumes, if the item is in stock and time order is placed.
Standard Express Delivery
Complimentary shipping within Ireland & Northern of Ireland is available on orders over €50, delivery fees will be added according to the area of delivery, as described below:
| Country Zone | Under €50 | Over €50 | TimeFrame |
| --- | --- | --- | --- |
| Ireland | €6.50 | Free! | 3-7 working days |
| Northern Ireland | €6.50 | Free! | 3-7 working days |
| UK | €12.00 | €15.00 | 3-7 working days |
| Europe | €17.00 | €25.00 | 3-7 working days |
| USA & Canada | €35.00 | €50.00 | 7-14 working days |
| Rest of the World | €50.00 | €50.00 | 7-21 working days |
| **Trade | and | School | Customers** |
| --- | --- | --- | --- |
| Country Zone | Under €500 | Above €500 | TimeFrame |
| Ireland | €6.00 | Free! | 3-7 working days |
| Northern Ireland | €6.00 | Free! | 3-7 working days |
| UK | €12.00 | Free! | 3-7 working days |
Please Note:
• Click and collect orders are "free" as there is no shipping involved.
• If the order after discount is applied is below €50 or €500 (trade or School orders), shipping will be charged.
• EUA, Canada and Rest of the World shipping charges are for parcels with maximum weight of 2kg.
• These time frames are a guide and shipping times may vary, especially at busy periods.
• Please allow a few days leeway for personalised products or pre-orders.
• We are aware of some shipping delays throughout Europe and the USA caused by unforcing circusntances or territorial border control restrictions. This is out of our control. Please allow a few days leeway for your delivery.
• Subject to placing your order before 12:30pm. Does not apply to pre-ordered items.
• Check on our Delivery Policy page, the delivery areas. We do not deliver to Channel Islands or the Isle of Man.
Description
By John F. Craghan

Since 1969 the Church has benefited from the new lectionary for Sundays with its three-year cycle of readings. As a result, the faithful now get to hear the distinctive voices of Matthew, Mark, Luke and John. At the same time, they appear to need more than the comments of the homilist to appreciate the distinctive portrait of Jesus in each evangelist.

This work addresses itself to the needs of worshippers who seek to recover the identity of Jesus of Nazareth in the course of the three-year cycle. The four Gospel-writers shape their messages about Jesus to address the specific needs of the communities in which they lived and worshipped. In this, they focus on perennial issues that confront all followers of Jesus – the meaning of faith, the demands of community life, and the need to live out the gospel message in the fray of daily existence.



John Craghan is professor emeritus of religious studies at St Norbert College, De Pere, Wisconsin. His published works include Yesterday's Word Today, The Gospels of the Weekday Lectionary, Beads and the Bible, I Was Ill and You Cared for Me. He has contributed over the years to Scripture in Church and has served as North American editor for the same publication. His chief interest is to make the best of biblical scholarship available to a wider audience.