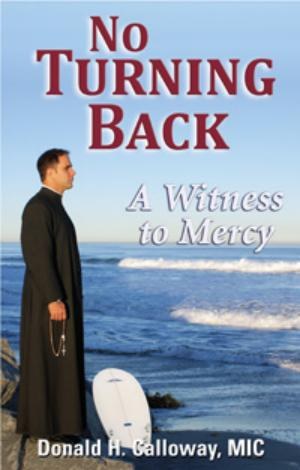 PRODUCT CODE: 9781596142107
No Turning Back: A Witness to Mercy
€19.95
Product Details
Extent: Paperback
Pages: 262
Size: 228 mm x 145 mm
Publisher: Catholic Word
Delivery
Click and Collect - Free
Click & Collect is available across Ireland and Northern Ireland in our Veritas stores. We will contact you when your item(s) are ready for collection. Please visit your branch after you receive contact from us that your items are available to collect. The order will be ready for you within 2-5 working days, subject to opening hours, order volumes, if the item is in stock and time order is placed.
Standard Express Delivery
Complimentary shipping within Ireland & Northern of Ireland is available on orders over €50, delivery fees will be added according to the area of delivery, as described below:
| Country Zone | Under €50 | Over €50 | TimeFrame |
| --- | --- | --- | --- |
| Ireland | €6.50 | Free! | 3-7 working days |
| Northern Ireland | €6.50 | Free! | 3-7 working days |
| UK | €12.00 | €15.00 | 3-7 working days |
| Europe | €17.00 | €25.00 | 3-7 working days |
| USA & Canada | €35.00 | €50.00 | 7-14 working days |
| Rest of the World | €50.00 | €50.00 | 7-21 working days |
| **Trade | and | School | Customers** |
| --- | --- | --- | --- |
| Country Zone | Under €500 | Above €500 | TimeFrame |
| Ireland | €6.00 | Free! | 3-7 working days |
| Northern Ireland | €6.00 | Free! | 3-7 working days |
| UK | €12.00 | Free! | 3-7 working days |
Please Note:
• Click and collect orders are "free" as there is no shipping involved.
• If the order after discount is applied is below €50 or €500 (trade or School orders), shipping will be charged.
• EUA, Canada and Rest of the World shipping charges are for parcels with maximum weight of 2kg.
• These time frames are a guide and shipping times may vary, especially at busy periods.
• Please allow a few days leeway for personalised products or pre-orders.
• We are aware of some shipping delays throughout Europe and the USA caused by unforcing circusntances or territorial border control restrictions. This is out of our control. Please allow a few days leeway for your delivery.
• Subject to placing your order before 12:30pm. Does not apply to pre-ordered items.
• Check on our Delivery Policy page, the delivery areas. We do not deliver to Channel Islands or the Isle of Man.
Description
Many who know of Fr. Donald know him because of his conversion story. He has spoken of it at conferences, on television, radio, online, and wherever he can spread the message. This book finally captures in print how Divine Mercy, through the intercession of the Blessed Mother, touched his life.

In his own words, No Turning Back recounts Fr. Donalds personal story of conversion after reading a book about Our Lady.

Though today he is a devout Catholic Marian priest, Fr. Donalds early years were no indication of what was to come. Before his conversion to Catholicism, he was a high school dropout who had been kicked out of a foreign country, institutionalized twice and thrown in jail multiple times. Discovering a book on Our Lady led to his conversion and ardent love of Mary and the Church.

As a priest in the Congregation of Marians of the Immaculate Conception, Fr. Donald has completed advanced studies in Mariology and strives to share his own love of Mary. Currently Fr. Donald is the House Superior of the Marian House of Studies in Steubenville, OH, and Vocation Director for the Marians.