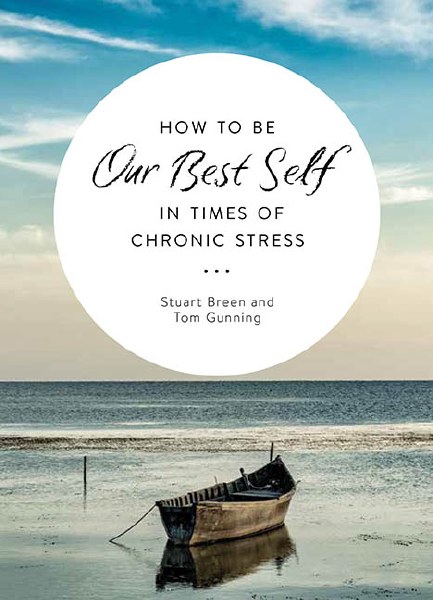 PRODUCT CODE: 9781800970052
How to be Our Best Self In Times of Chronic Stress
€10.99
Product Details
Extent: Paperback
Pages: 96
Size: 180 mm x 130 mm
Publisher: Beehive Books
Customer Reviews (1)
Customer Reviews
Average rating:
---
Excellent
A great book to recognise and understand chronic stress and the impact on your body & mind, Its a fresh take compared to other self helps books Ive read also leaves you feeling optimistic about recovery with a bit more self compassion
— Angela Moore
Delivery
Click and Collect - Free
Click & Collect is available across Ireland and Northern Ireland in our Veritas stores. We will contact you when your item(s) are ready for collection. Please visit your branch after you receive contact from us that your items are available to collect. The order will be ready for you within 2-5 working days, subject to opening hours, order volumes, if the item is in stock and time order is placed.
Standard Express Delivery
Complimentary shipping within Ireland & Northern of Ireland is available on orders over €50, delivery fees will be added according to the area of delivery, as described below:
| Country Zone | Under €50 | Over €50 | TimeFrame |
| --- | --- | --- | --- |
| Ireland | €4.99 | Free! | 3-7 working days |
| Northern Ireland | €4.99 | Free! | 3-7 working days |
| UK | €12.00 | €15.00 | 3-7 working days |
| Europe | €17.00 | €25.00 | 3-7 working days |
| USA & Canada | €35.00 | €50.00 | 7-14 working days |
| Rest of the World | €50.00 | €50.00 | 7-21 working days |
| **Trade | and | School | Customers** |
| --- | --- | --- | --- |
| Country Zone | Under €500 | Above €500 | TimeFrame |
| Ireland | €6.00 | Free! | 3-7 working days |
| Northern Ireland | €6.00 | Free! | 3-7 working days |
| UK | €12.00 | Free! | 3-7 working days |
Please Note:
• Click and collect orders are "free" as there is no shipping involved.
• If the order after discount is applied is below €50 or €500 (trade or School orders), shipping will be charged.
• EUA, Canada and Rest of the World shipping charges are for parcels with maximum weight of 2kg.
• These time frames are a guide and shipping times may vary, especially at busy periods.
• Please allow a few days leeway for personalised products or pre-orders.
• We are aware of some shipping delays throughout Europe and the USA caused by unforcing circusntances or territorial border control restrictions. This is out of our control. Please allow a few days leeway for your delivery.
• Subject to placing your order before 12:30pm. Does not apply to pre-ordered items.
• Check on our Delivery Policy page, the delivery areas. We do not deliver to Channel Islands or the Isle of Man.
Description
About the Book:
Chronic stress is caused by a lot of small pressures building over time. It usually happens to good people trying to do good things for their families, friends and work colleagues.
In How to Be Our Best Self in Times of Chronic Stress, the reader is guided gently to recognise the signs of chronic stress and to take small but vital steps to address its symptoms.
People experiencing chronic stress often do not have the time or financial resources to engage with long-term therapy or lengthy treatments. With a compassionate approach, this book highlights the miracle of tiny interventions in a day packed with pressures and deadlines. It offers practical and easy-to-follow steps that can be readily incorporated into even the most hectic lifestyle.

This book can be dipped into a page or chapter at a time. It can be kept on a car seat or a desk as a constant reminder that a life of striving and trying to keep up can be balanced with a life of thriving and moments of reprieve. Even in the midst of a very stressful life you can still be your best self.

About the Authors:
Stuart Breen is founder and lead facilitator with Huànyíng Holistics. He is a multimodality holistic facilitator. He is co-author of the 'How to Be Our Best Self' series.

Tom Gunning is a writer and teacher. He is the co-founder of the Parable Garden Education Project in Wexford. His books include the 'How to Be Our Best Self' series and Nature's Way: A Guide to Green Therapy (2022).