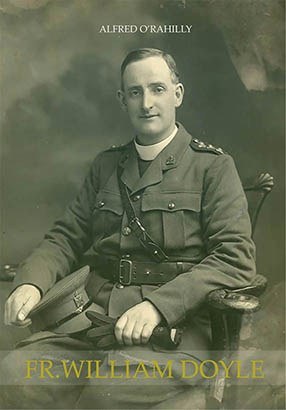 PRODUCT CODE: 9781916316454
Father William Doyle
€23.95
Delivery
Click and Collect - Free
Click & Collect is available across Ireland and Northern Ireland in our Veritas stores. We will contact you when your item(s) are ready for collection. Please visit your branch after you receive contact from us that your items are available to collect. The order will be ready for you within 2-5 working days, subject to opening hours, order volumes, if the item is in stock and time order is placed.
Standard Express Delivery
Complimentary shipping within Ireland & Northern of Ireland is available on orders over €50, delivery fees will be added according to the area of delivery, as described below:
| Country Zone | Under €50 | Over €50 | TimeFrame |
| --- | --- | --- | --- |
| Ireland | €4.99 | Free! | 3-7 working days |
| Northern Ireland | €4.99 | Free! | 3-7 working days |
| UK | €12.00 | €15.00 | 3-7 working days |
| Europe | €17.00 | €25.00 | 3-7 working days |
| USA & Canada | €35.00 | €50.00 | 7-14 working days |
| Rest of the World | €50.00 | €50.00 | 7-21 working days |
| **Trade Customers** | | | |
| --- | --- | --- | --- |
| Country Zone | Under €500 | Above €500 | TimeFrame |
| Ireland | €6.50 | Free! | 3-7 working days |
| Northern Ireland | €6.50 | Free! | 3-7 working days |
Please Note:
• These time frames are a guide and shipping times may vary, especially at busy periods.
• Please allow a few days leeway for personalised products or pre-orders.
• We are aware of some shipping delays throughout Europe and the USA caused by unforcing circusntances or territorial border control restrictions. This is out of our control. Please allow a few days leeway for your delivery.
• Subject to placing your order before 12:30pm. Does not apply to pre-ordered items.
• Check on our Delivery Policy page, the delivery areas. We do not deliver to Channel Islands or the Isle of Man.
• The shipping cost will depend on the weight of your order and this will be calculated at checkout.
Description
Father William Doyle S.J. (1873-1917) is undoubtedly one of the greatest military chaplains of all time. A steadfast Irishman by birth and mentality, he gave his life as a martyr of Charity on Frezenberg Ridge, Belgium, on the 16th August 1917. He had spent the previous year and a half administering the Sacraments in harrowing circumstances to the many Irish soldiers who were fighting during World War I "for little Belgium" (to quote the last words of one of the dying men to Father Doyle).

Though best known for his untiring and fearless charity in the service of his "boys", the words he wrote on his appointment as chaplain in November 1915 show us that this heroic devotion was merely the outward manifestation of a deep holiness characterized by a great love for Christ: "What the future has in store I know not, but I have given Jesus all to dispose of as He sees best".

In this classic biography of the great Irish Jesuit, Alfred O'Rahilly, relying in large part on Father Doyle's personal correspondence and diaries, outlines the main facts of his life from birth and childhood to his years as a Jesuit student, preacher and spiritual director. He includes a thorough analysis of Father Doyle's interior life and charts his growth in the love and service of Christ, which culminates in his heroic actions among the Irish troops in war-torn France and Belgium between December 1915 and August 1917.