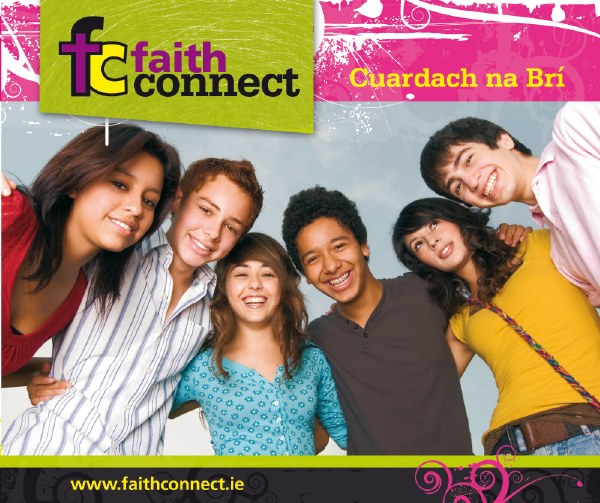 PRODUCT CODE: 9781847303745
Education
FaithConnect (Irish language version)
€15.99
Delivery
Click and Collect - Free
Click & Collect is available across Ireland and Northern Ireland in our Veritas stores. We will contact you when your item(s) are ready for collection. Please visit your branch after you receive contact from us that your items are available to collect. The order will be ready for you within 2-5 working days, subject to opening hours, order volumes, if the item is in stock and time order is placed.
Standard Express Delivery
Complimentary shipping within Ireland & Northern of Ireland is available on orders over €50, delivery fees will be added according to the area of delivery, as described below:
| Country Zone | Under €50 | Over €50 | TimeFrame |
| --- | --- | --- | --- |
| Ireland | €6.50 | Free! | 3-7 working days |
| Northern Ireland | €6.50 | Free! | 3-7 working days |
| UK | €12.00 | €15.00 | 3-7 working days |
| Europe | €17.00 | €25.00 | 3-7 working days |
| USA & Canada | €35.00 | €50.00 | 7-14 working days |
| Rest of the World | €50.00 | €50.00 | 7-21 working days |
| **Trade | and | School | Customers** |
| --- | --- | --- | --- |
| Country Zone | Under €500 | Above €500 | TimeFrame |
| Ireland | €6.00 | Free! | 3-7 working days |
| Northern Ireland | €6.00 | Free! | 3-7 working days |
| UK | €12.00 | Free! | 3-7 working days |
Please Note:
• Click and collect orders are "free" as there is no shipping involved.
• If the order after discount is applied is below €50 or €500 (trade or School orders), shipping will be charged.
• EUA, Canada and Rest of the World shipping charges are for parcels with maximum weight of 2kg.
• These time frames are a guide and shipping times may vary, especially at busy periods.
• Please allow a few days leeway for personalised products or pre-orders.
• We are aware of some shipping delays throughout Europe and the USA caused by unforcing circusntances or territorial border control restrictions. This is out of our control. Please allow a few days leeway for your delivery.
• Subject to placing your order before 12:30pm. Does not apply to pre-ordered items.
• Check on our Delivery Policy page, the delivery areas. We do not deliver to Channel Islands or the Isle of Man.
Description
Is clár idirghníomhach don teagasc reiligiúnach é Cuardach na Brí. Le haghaidh pobal na hidirbhliana atá sé, agus do mhic léinn ón gcúigiú agus ón séú bhliain chomh maith. Is comhthionscnamh é idir fhoireann Veritas agus Coláiste Oideachais Mater Dei, faoi stiúir Orla Walsh agus Enda Donlon, agus tá sárthaispeántas ann ar fhás agus ar chumhacht na teicneolaíochta san oideachas reiligiúnach. Áis uathach ar líne is ea Cuardach na Brí agus is féidir bheith cinnte faoi go rachaidh sé i bhfeidhm go mór ar mhic léinn shraith na sinsear.


Beidh an deis ag scoileanna ceadúnas a cheannach a thabharfaidh cead dóibh ceangal leis an suíomh idirlín. Tabharfaidh sé seo saoirse d'fhoireann na scoile ina iomláine na hacmhainní a úsáid agus an t-ábhar bheith acu le haghaidh tionscnaimh. Beidh cead ag múinteoirí chomh maith, cuntais gan teorainn a chruthú do mhic léinn na scoile. Beidh acmhainní agus ábhar Cuardach na Brí ar fáil sna cuntais seo, beidh leathanach ann do phróifíl phearsanta, beidh leabhar saothair ar líne ar fáil chomh maith le dialann agus blag (rogha é seo a chuireann an múinteoir féin ar siúl). Ceadúnas atá bailí don scoilbhliain ar fad atá anseo agus is féidir leis na mic léinn ceangal gan teorainn a dhéanamh leis an suíomh ó ríomhaire ar bith. D'fhéadfaí obair na mac léinn a íoslódáil agus a shábháil ag deireadh na bliana.


Tá áthas orainn an clár seo a chur ar fáil anois i bhfoirm théacsleabhair. Cuardach na Brí, ábhar faoin gciall bheith á lorg againn is ainm don chlár atá bunaithe ar Roinn A de chreat an churaclaim le haghaidh teagasc reiligiúnach don tsraith shinsearach. Tá an t-ábhar céanna ar fáil sa leabhar agus atá ar fáil ar líne, agus réitíonn na hacmhainní lena chéile ionas gur féidir iad a úsáid i gcomhar lena chéile nó scartha óna chéile.


WWW.FAITHCONNECT.IE


TAIRISCINT AR LEITH … €300 ar cheadúnas bliana. Cláraigh roimh an 30 Meán Fómhair agus cuirfear an dara bhliain ar fáil duit SAOR IN AISCE!



****************************************************************************

FaithConnect, our interactive online religious education programme for transition year and senior cycle students, is now available in our new FaithConnect textbook. The same content will be available online and in the textbook, so students can log on to the FaithConnect website whenever possible to take up from where they are in the book. They can use the online workbook, journal and blog to respond to questions and use the web links provided for further research. They can also view the FaithConnect video clips individually, or the teacher can project them for the entire class group.


Schools can purchase a licence to gain access to the website. This allows all teachers in the school to use the resources and project the content. It also allows teachers to set up an unlimited number of student accounts for their school. A student account provides access to the FaithConnect body of content, a personal profile page, online workbook, journal and blog (an option that the teacher can turn on). This licence is valid for the school year and the website can be accessed as many times as a student wishes from any computer.