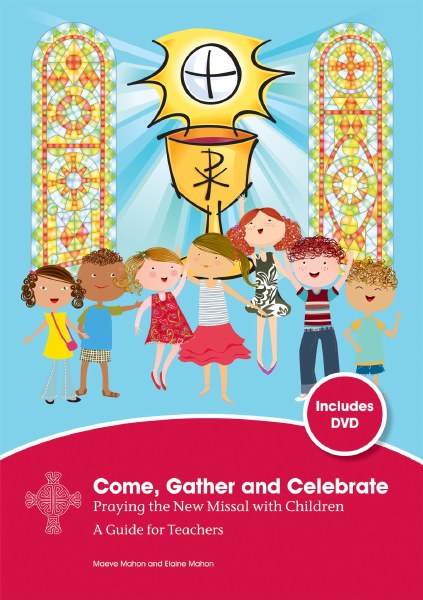 PRODUCT CODE: 9781847303158
Education
Come, Gather and Celebrate - Guide for Teachers (incl. DVD)
€19.99
Delivery
Click and Collect - Free
Click & Collect is available across Ireland and Northern Ireland in our Veritas stores. We will contact you when your item(s) are ready for collection. Please visit your branch after you receive contact from us that your items are available to collect. The order will be ready for you within 2-5 working days, subject to opening hours, order volumes, if the item is in stock and time order is placed.
Standard Express Delivery
Complimentary shipping within Ireland & Northern of Ireland is available on orders over €50, delivery fees will be added according to the area of delivery, as described below:
| Country Zone | Under €50 | Over €50 | TimeFrame |
| --- | --- | --- | --- |
| Ireland | €4.99 | Free! | 3-7 working days |
| Northern Ireland | €4.99 | Free! | 3-7 working days |
| UK | €12.00 | €15.00 | 3-7 working days |
| Europe | €17.00 | €25.00 | 3-7 working days |
| USA & Canada | €35.00 | €50.00 | 7-14 working days |
| Rest of the World | €50.00 | €50.00 | 7-21 working days |
| **Trade | and | School | Customers** |
| --- | --- | --- | --- |
| Country Zone | Under €500 | Above €500 | TimeFrame |
| Ireland | €6.00 | Free! | 3-7 working days |
| Northern Ireland | €6.00 | Free! | 3-7 working days |
| UK | €12.00 | Free! | 3-7 working days |
Please Note:
• Click and collect orders are "free" as there is no shipping involved.
• If the order after discount is applied is below €50 or €500 (trade or School orders), shipping will be charged.
• EUA, Canada and Rest of the World shipping charges are for parcels with maximum weight of 2kg.
• These time frames are a guide and shipping times may vary, especially at busy periods.
• Please allow a few days leeway for personalised products or pre-orders.
• We are aware of some shipping delays throughout Europe and the USA caused by unforcing circusntances or territorial border control restrictions. This is out of our control. Please allow a few days leeway for your delivery.
• Subject to placing your order before 12:30pm. Does not apply to pre-ordered items.
• Check on our Delivery Policy page, the delivery areas. We do not deliver to Channel Islands or the Isle of Man.
Description
The New Edition of the Roman Missal has been the subject of much discussion over the past few months. This change in the Mass texts offers us the possibility of seeing with new eyes the prayers we use at Mass, and of taking the opportunity to explore again what it is we do when we gather to celebrate the Eucharist. It is in this spirit that we offer Come, Gather and Celebrate: Praying the New Missal with Children. We hope that this book will help teachers to understand more fully the rationale for the changes that have been made to the Mass texts, introduce them to the new texts and suggest ways that they can communicate and teach the changes to children so that they will be enabled and encouraged to become full, active and conscious participants at Mass.



A Guide for Teachers content includes:

• What is a Missal?

• Why do we need a New Missal?

• What are the changes?

• A guide to planning and celebrating the Mass with children.

• DVD including a celebration of the Mass according to the new rite and resources for use with interactive whiteboards.

• Teaching Resources for the following five strands which correspond to the five parts of the Mass:

– We Gather Together

– We Listen to God's Word

– We Give Thanks to God

– We Receive Jesus, the Bread of Life

– We are Sent to Announce the Gospel.