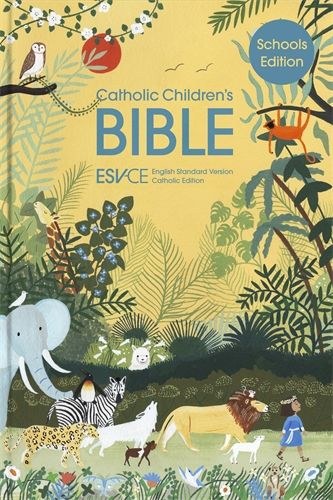 PRODUCT CODE: 9780281085330
Catholic Bible ESV-CE, Schools Edition
€15.50
Delivery
Click and Collect - Free
Click & Collect is available across Ireland and Northern Ireland in our Veritas stores. We will contact you when your item(s) are ready for collection. Please visit your branch after you receive contact from us that your items are available to collect. The order will be ready for you within 2-5 working days, subject to opening hours, order volumes, if the item is in stock and time order is placed.
Standard Express Delivery
Complimentary shipping within Ireland & Northern of Ireland is available on orders over €50, delivery fees will be added according to the area of delivery, as described below:
| Country Zone | Under €50 | Over €50 | TimeFrame |
| --- | --- | --- | --- |
| Ireland | €6.50 | Free! | 3-7 working days |
| Northern Ireland | €6.50 | Free! | 3-7 working days |
| UK | €12.00 | €15.00 | 3-7 working days |
| Europe | €17.00 | €25.00 | 3-7 working days |
| USA & Canada | €35.00 | €50.00 | 7-14 working days |
| Rest of the World | €50.00 | €50.00 | 7-21 working days |
| **Trade | and | School | Customers** |
| --- | --- | --- | --- |
| Country Zone | Under €500 | Above €500 | TimeFrame |
| Ireland | €6.00 | Free! | 3-7 working days |
| Northern Ireland | €6.00 | Free! | 3-7 working days |
| UK | €12.00 | Free! | 3-7 working days |
Please Note:
• Click and collect orders are "free" as there is no shipping involved.
• If the order after discount is applied is below €50 or €500 (trade or School orders), shipping will be charged.
• EUA, Canada and Rest of the World shipping charges are for parcels with maximum weight of 2kg.
• These time frames are a guide and shipping times may vary, especially at busy periods.
• Please allow a few days leeway for personalised products or pre-orders.
• We are aware of some shipping delays throughout Europe and the USA caused by unforcing circusntances or territorial border control restrictions. This is out of our control. Please allow a few days leeway for your delivery.
• Subject to placing your order before 12:30pm. Does not apply to pre-ordered items.
• Check on our Delivery Policy page, the delivery areas. We do not deliver to Channel Islands or the Isle of Man.
Description
Beloved by millions around the world, the English Standard Version of the Bible is ideal for anyone looking for a contemporary and readable translation that is also accurate and consistent in its rendering of key words and phrases.

Created by a team of over 100 leading scholars, this Catholic edition of the ESV is fully Anglicized and features the deuterocanonical books in the Catholic Bible, such as a Tobit, Judith and the Wisdom of Solomon. Presented in a double-column format, with explanatory footnotes providing alternative renderings of particular words and phrases, the ESV-CE Bible offers a clear, easy-to-read text that is perfect for everyday use.

There's no better way for teachers to engage with children about the Bible in the classroom than with the ESV-CE Schools Edition. Featuring the full ESV text, it includes 16 plates of beautiful, brightly coloured illustrations from artist Skylar White that children will be drawn to. It is perfect for schools to stock in libraries and classrooms, so children can access God's Word wherever they are.

Other features include:
- 9.5 pt font size
- An award-winning typeface
- Inline chapter headings
- Inline chapter numbers
- 12 maps
- White paper from sustainable sources

About the Author:
The English Standard Version is an essentially literal translation of the Bible that seeks as far as possible to reproduce the precise wording of the original text and the personal style of each biblical writer.

Following a distinct word-for-word translation method, the ESV Bible captures the precise wording of the original texts by rendering each Hebrew or Greek word with an equivalent English word. This result is a modern translation that stands in the classic tradition that starts with the King James Version of 1611 and stretches through to the Revised Standard Version of 1971.