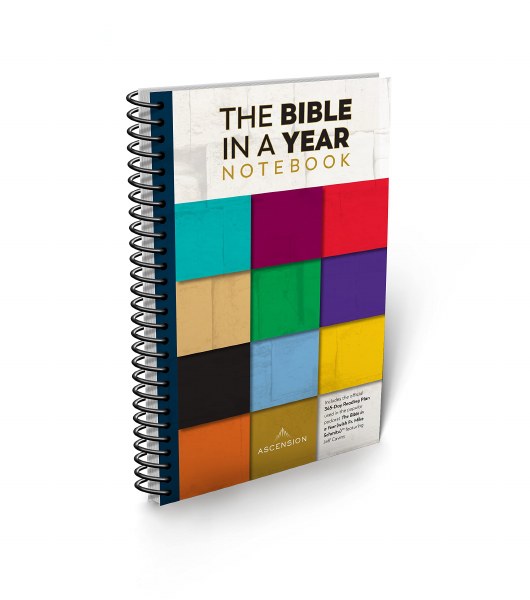 PRODUCT CODE: 9781954881495
Bible in a Year Notebook, 2nd edition, spiral
€17.55
Delivery
Click and Collect - Free
Click & Collect is available across Ireland and Northern Ireland in our Veritas stores. We will contact you when your item(s) are ready for collection. Please visit your branch after you receive contact from us that your items are available to collect. The order will be ready for you within 2-5 working days, subject to opening hours, order volumes, if the item is in stock and time order is placed.
Standard Express Delivery
Complimentary shipping within Ireland & Northern of Ireland is available on orders over €50, delivery fees will be added according to the area of delivery, as described below:
| Country Zone | Under €50 | Over €50 | TimeFrame |
| --- | --- | --- | --- |
| Ireland | €6.50 | Free! | 3-7 working days |
| Northern Ireland | €6.50 | Free! | 3-7 working days |
| UK | €12.00 | €15.00 | 3-7 working days |
| Europe | €17.00 | €25.00 | 3-7 working days |
| USA & Canada | €35.00 | €50.00 | 7-14 working days |
| Rest of the World | €50.00 | €50.00 | 7-21 working days |
| **Trade | and | School | Customers** |
| --- | --- | --- | --- |
| Country Zone | Under €500 | Above €500 | TimeFrame |
| Ireland | €6.00 | Free! | 3-7 working days |
| Northern Ireland | €6.00 | Free! | 3-7 working days |
| UK | €12.00 | Free! | 3-7 working days |
Please Note:
• Click and collect orders are "free" as there is no shipping involved.
• If the order after discount is applied is below €50 or €500 (trade or School orders), shipping will be charged.
• EUA, Canada and Rest of the World shipping charges are for parcels with maximum weight of 2kg.
• These time frames are a guide and shipping times may vary, especially at busy periods.
• Please allow a few days leeway for personalised products or pre-orders.
• We are aware of some shipping delays throughout Europe and the USA caused by unforcing circusntances or territorial border control restrictions. This is out of our control. Please allow a few days leeway for your delivery.
• Subject to placing your order before 12:30pm. Does not apply to pre-ordered items.
• Check on our Delivery Policy page, the delivery areas. We do not deliver to Channel Islands or the Isle of Man.
Description
New & improved with spiral binding and extra space for notes!
Based on lots of listener feedback, this notebook is back and updated-the notebook for one of America's top podcasts, The Bible in a Year (with Fr. Mike Schmitz)™ featuring Jeff Cavins.

The Bible in a Year Notebook, 2nd Edition is the only notebook specifically designed to be used with Fr. Mike's Bible in a Year podcast.

Whether listeners started following the podcast on its first day or are about to begin now, this notebook is a resource to help them remember what stood out to them on that specific day.

This simple notebook has helpful features like:
- NEW spiral binding for ease of note-taking
- NEW one full page of note-taking space per episode of the podcast to write your thoughts and takeaways
- NEW portrait orientation so it fits nicely on a bookshelf with your Bible in a Year Companions and Great Adventure Catholic Bible
- Color-coded pages using The Bible Timeline® Learning System to show you where each day's readings are in the timeline of salvation history
- The proprietary The Bible in a Year Reading Plan, laid out for each day to help you read along and stay on track
- The Bible verse references for the daily readings on top of that day's section
In this notebook, podcast listeners will have a place to write down their reflections and prayers every day as they come to see the world more and more through the lens of Scripture.

The Bible in a Year Notebook is the perfect place to record your own journey through Scripture - so no content from the podcast is included, besides the reading plan. Your notes will be the content!