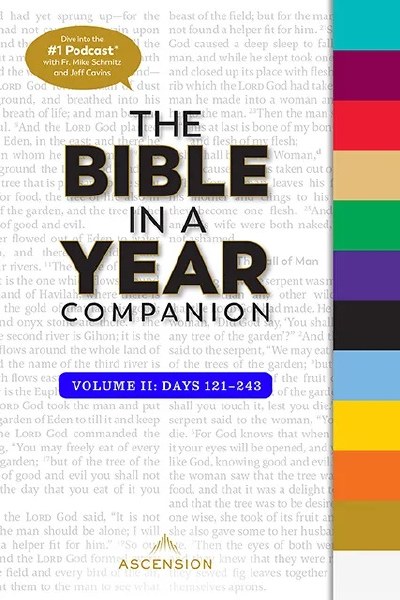 PRODUCT CODE: 9781954881150
Bible in a Year Companion Volume II
€24.95
Delivery
Click and Collect - Free
Click & Collect is available across Ireland and Northern Ireland in our Veritas stores. We will contact you when your item(s) are ready for collection. Please visit your branch after you receive contact from us that your items are available to collect. The order will be ready for you within 2-5 working days, subject to opening hours, order volumes, if the item is in stock and time order is placed.
Standard Express Delivery
Complimentary shipping within Ireland & Northern of Ireland is available on orders over €50, delivery fees will be added according to the area of delivery, as described below:
| Country Zone | Under €50 | Over €50 | TimeFrame |
| --- | --- | --- | --- |
| Ireland | €4.99 | Free! | 3-7 working days |
| Northern Ireland | €4.99 | Free! | 3-7 working days |
| UK | €12.00 | €15.00 | 3-7 working days |
| Europe | €17.00 | €25.00 | 3-7 working days |
| USA & Canada | €35.00 | €50.00 | 7-14 working days |
| Rest of the World | €50.00 | €50.00 | 7-21 working days |
| **Trade Customers** | | | |
| --- | --- | --- | --- |
| Country Zone | Under €500 | Above €500 | TimeFrame |
| Ireland | €6.50 | Free! | 3-7 working days |
| Northern Ireland | €6.50 | Free! | 3-7 working days |
Please Note:
• These time frames are a guide and shipping times may vary, especially at busy periods.
• Please allow a few days leeway for personalised products or pre-orders.
• We are aware of some shipping delays throughout Europe and the USA caused by unforcing circusntances or territorial border control restrictions. This is out of our control. Please allow a few days leeway for your delivery.
• Subject to placing your order before 12:30pm. Does not apply to pre-ordered items.
• Check on our Delivery Policy page, the delivery areas. We do not deliver to Channel Islands or the Isle of Man.
• The shipping cost will depend on the weight of your order and this will be calculated at checkout.
Description
The Bible in a Year Companion guide takes Catholics through the award-winning Bible in a Year podcast with summaries, transcripts of Fr. Mike's daily prayers, and extra content for each episode. It's the perfect way to remember what you're hearing, as well as learn even more about each part of Scripture!

The Companion presents daily content for each episode of the podcast, including:

The proprietary Bible in a Year Reading Plan
Reflect on the Word, where readers will find a summary of the key points and highlights of Fr. Mike's commentary on the daily readings
Take It to Prayer, where Catholics will be able to pray the daily prayer alongside Fr. Mike and the rest of the BIY community
Dive Deeper, which features unique content surrounding each day's readings, from images and Q&As to prayer prompts and ways to live out the Scriptures in real life
In addition to the daily content, each time period will have a Time Period Introduction and Review. Written by Jeff Cavins, these will help Catholics to know what to look for in the days ahead, and to recall what has happened in the days completed.

This sought-after guide to the award-winning podcast The Bible in a Year (with Fr. Mike Schmitz)TM featuring Jeff Cavins is coming to you thanks to many collaborators including:

Fr. Mike Schmitz
Jeff Cavins
Bobby Semendy
Members of the Ascension Catholic Bible Studies Facebook group
Kara Logan & many more!