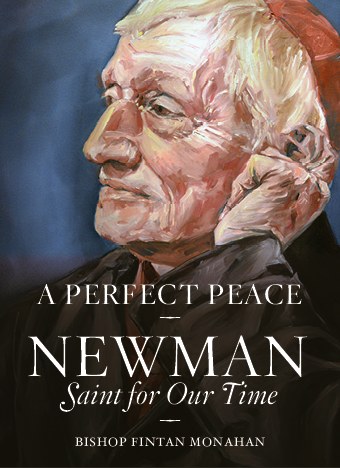 PRODUCT CODE: 9781847309341
Sale
A Perfect Peace: Newman Saint for our Time
Product Details
Extent: Paperback
Pages: 112
Publisher: Veritas Publications
Customer Reviews (1)
Customer Reviews
Average rating:
---
A Perfect Peace: Newman Saint For Our Time
I found this to be a good short account of Newman, reasonably well put together, covering all the various aspects of his life. Nice mentions of the various Irish connections. I enjoyed the quotes and extracts from his writing and these made me want to read more. It's good value for money, somewhere between a pamphlet and a fuller biography. I hope that having read this the reader wants to explore further, longer biographies, Dermot Mansfield's excellent one for instance, and read some of Newman himself.
— Michael Farry
Delivery
Click and Collect - Free
Click & Collect is available across Ireland and Northern Ireland in our Veritas stores. We will contact you when your item(s) are ready for collection. Please visit your branch after you receive contact from us that your items are available to collect. The order will be ready for you within 2-5 working days, subject to opening hours, order volumes, if the item is in stock and time order is placed.
Standard Express Delivery
Complimentary shipping within Ireland & Northern of Ireland is available on orders over €100, delivery fees will be added according to the area of delivery, as described below:
Country Zone
Under €100
Over €100
TimeFrame
Ireland
€6.50
Free!
3-7 working days
Northern Ireland
€6.50
Free!
3-7 working days
| Country Zone | Under €50 | Over €50 | TimeFrame |
| --- | --- | --- | --- |
| Europe | €17.00 | €25.00 | 3-7 working days |
| USA & Canada | €35.00 | €50.00 | 7-14 working days |
| Rest of the World | €50.00 | €50.00 | 7-21 working days |
| **Trade | and | School | Customers** |
| --- | --- | --- | --- |
| Country Zone | Under €500 | Above €500 | TimeFrame |
| Ireland | €6.50 | Free! | 3-7 working days |
| Northern Ireland | €6.50 | Free! | 3-7 working days |
| UK | €12.00 | Free! | 3-7 working days |
Please Note:
• Click and collect orders are "free" as there is no shipping involved.
• If the order after discount is applied is below €100 or €500 (trade or School orders), shipping will be charged.
• EUA, Canada and Rest of the World shipping charges are for parcels with maximum weight of 2kg.
• These time frames are a guide and shipping times may vary, especially at busy periods.
• Please allow a few days leeway for personalised products or pre-orders.
• We are aware of some shipping delays throughout Europe and the USA caused by unforcing circusntances or territorial border control restrictions. This is out of our control. Please allow a few days leeway for your delivery.
• Subject to placing your order before 12:30pm. Does not apply to pre-ordered items.
• Check on our Delivery Policy page, the delivery areas. We do not deliver to Channel Islands or the Isle of Man.
Description
Abou the book:
To celebrate the canonisation of John Henry Newman, Veritas is delighted to publish this special commemorative volume which includes a short biography of the great scholar and theologian, alongside key excerpts from his writings.
Born in London in 1801, Newman - one of the most notable Anglican converts to Catholicism - was a prolific author whose works, including forty books and twenty-one thousand letters, are considered to be some of the most influential in the history of Christian theology and spirituality.
At his beatification, Pope Benedict XVI said of Newman that his 'insights into the relationship between faith and reason, into the vital place of revealed religion in civilised society, and into the need for a broadly-based and wide-ranging approach to education - continue to inspire and enlighten many all over the world today.'
In this timely new book, Bishop Fintan Monahan explores key moments from Newman's life, including his years at Oxford, his conversion to Catholicism and his time spent in Ireland where he spearheaded the foundation of the Catholic University. He also explains why Newman's writings continue to resonate and provides an inspiring selection of extracts from his works that highlight his genius.

Abou the author:
Fintan Monahan is Bishop of Killaloe and is based in Ennis, Co. Clare. He has a great interest in John Henry Newman and has been collecting Newman's work for over thirty years.