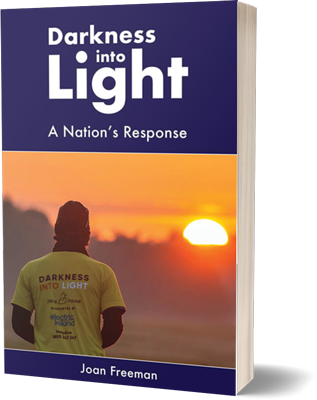 Book of the month
Darkness into Light: A Nation's Response
One of this year's titles that really deserves recognition is our book of the month: Darkness into Light: A Nation's Response. This important and at times heart-breaking book is an incredibly moving account of a truly remarkable woman's capacity to bring about societal change – the impact of which continues today. It tells the story of the birth of a national and international movement that brings hundreds and thousands of people together for an annual walk to raise funds for Pieta House. The walk also offers an opportunity to remember, grieve and celebrate loved ones who have died by suicide. Joan Freeman (the founder of Pieta House and Darkness into Light) describes how this extraordinary event began and includes testimonies from people who brought the walk to different parts of Ireland and, indeed, different parts of the world.
Taking place at dawn on a Saturday in May, (this year it will take place on 7 May) this annual event has raised almost €29 million for suicide prevention, both at home and abroad. Thirteen years after that first walk in the Phoenix Park, Freeman recounts how significant acknowledgement is to the movement: 'Only as I am writing this do I realise that the most important part of the entire venture was acknowledgment. This walk was going to acknowledge that suicide exists. It was going to acknowledge the people who had already died by suicide – men, women and children who left an impact on the lives of the people around them. It was going to acknowledge that their lives were necessary, even if they didn't feel it themselves. It was then, of course, about acknowledging the sorrow and suffering of those who were left behind. There would be no more cover up, no more stigma around suicide.'
With a foreword by Taoiseach Micheál Martin and an afterword by Tánaiste Leo Varadkar, Darkness into Light provides a deeply moving account of how a single idea, along with an unwavering belief, can become a catalyst for real societal change.
(Síne Quinn, Beehive Books)

Book Review
'This is the story of how love brought light out of the darkness. It is for us all.'
(Dr Harry Barry, GP and bestselling author)

'Intimate, honest, and a beautiful chronicle of the genesis of what is now one of Ireland – and the world's – most important charity events.'
(Joe Houghton, former chairperson of Pieta House)
add to cart