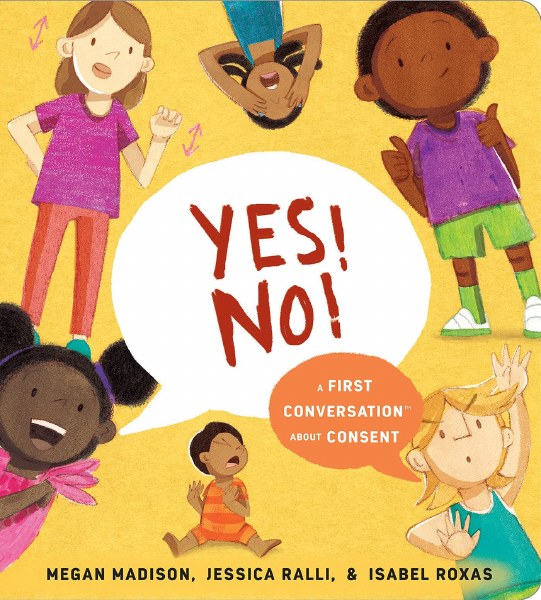 PRODUCT CODE: 9780593383322
Yes! No! A First Conversation About Consent
€9.50
Product Details
Extent: Board book
Pages: 36
Publisher: Rise x Penguin Workshop
Delivery
Click and Collect - Free
Click & Collect is available across Ireland and Northern Ireland in our Veritas stores. We will contact you when your item(s) are ready for collection. Please visit your branch after you receive contact from us that your items are available to collect. The order will be ready for you within 2-5 working days, subject to opening hours, order volumes, if the item is in stock and time order is placed.
Standard Express Delivery
Complimentary shipping within Ireland & Northern of Ireland is available on orders over €50, delivery fees will be added according to the area of delivery, as described below:
| Country Zone | Under €50 | Over €50 | TimeFrame |
| --- | --- | --- | --- |
| Ireland | €6.50 | Free! | 3-7 working days |
| Northern Ireland | €6.50 | Free! | 3-7 working days |
| UK | €12.00 | €15.00 | 3-7 working days |
| Europe | €17.00 | €25.00 | 3-7 working days |
| USA & Canada | €35.00 | €50.00 | 7-14 working days |
| Rest of the World | €50.00 | €50.00 | 7-21 working days |
| **Trade | and | School | Customers** |
| --- | --- | --- | --- |
| Country Zone | Under €500 | Above €500 | TimeFrame |
| Ireland | €6.00 | Free! | 3-7 working days |
| Northern Ireland | €6.00 | Free! | 3-7 working days |
| UK | €12.00 | Free! | 3-7 working days |
Please Note:
• Click and collect orders are "free" as there is no shipping involved.
• If the order after discount is applied is below €50 or €500 (trade or School orders), shipping will be charged.
• EUA, Canada and Rest of the World shipping charges are for parcels with maximum weight of 2kg.
• These time frames are a guide and shipping times may vary, especially at busy periods.
• Please allow a few days leeway for personalised products or pre-orders.
• We are aware of some shipping delays throughout Europe and the USA caused by unforcing circusntances or territorial border control restrictions. This is out of our control. Please allow a few days leeway for your delivery.
• Subject to placing your order before 12:30pm. Does not apply to pre-ordered items.
• Check on our Delivery Policy page, the delivery areas. We do not deliver to Channel Islands or the Isle of Man.
Description
Developed by experts in the fields of early childhood development and activism against injustice, this topic-driven book offers clear, concrete language and imagery to introduce the concept of consent. This book serves to normalize and celebrate the experience of asking for and being asked for permission to do something involving one's body. It centers on respect for bodily autonomy, and reviews the many ways that one can say or indicate "No."

While young children are avid observers and questioners of their world, adults often shut down or postpone conversations on complicated topics because it's hard to know where to begin. Research shows that talking about issues like race, gender, and our bodies from the age of two not only helps children understand what they see, but also increases self-awareness, self-esteem, and allows them to recognize and confront things that are unfair, like discrimination and prejudice.

These books offer a supportive approach that considers both the child and the adult. Illustrative art accompanies the simple and interactive text, and the backmatter offers additional resources and ideas for extending this discussion.

About the Author:
Jessica Ralli is the Coordinator of Early Literacy Programs at Brooklyn Public Library, where she develops and manages programming for BPL's award-winning First Five Years initiative. She received her MA in Early Childhood Special Education from Teachers College, Columbia University, and previously taught in schools, childcare centers, and museums. She has written about early literacy and library services for young children in School Library Journal (where she co-authors the "First Steps" column with Rachel G. Payne) and has presented on play-based learning at the American Library Association Conference, Young Child Expo, and the Bank Street Center for Children's Literature.

Megan Pamela Ruth Madison is a lifelong student of radical Black feminism and an early childhood educator. She holds an MS in early childhood education from Dominican University and a BA in studies in religion from the University of Michigan. She is currently pursuing her PhD at Brandeis University's Heller School for Social Policy. When she's not working on finishing up her dissertation, she works as a trainer for the Center for Racial Justice in Education, the Human Root, and the New York Early Childhood Professional Development Institute, facilitating workshops for teachers on race, gender, and sexuality.

Isabel Roxas is an author/illustrator, micro-publisher, ceramicist, and avid reader. She was born in Manila, Philippines, and was raised on luscious mangoes, old wives' tales, and monsoon moons. She now works in the backroom of an art gallery in Manhattan where she writes and illustrates stories, designs books, and creates small objects in clay and resin. Her illustrator credits include picture books Hello Universe by Erin Entrada Kelly (2018 Newbery medal winner), Let Me Finish! by Minh Lê (named an NPR Best Book of 2016) and Day at the Market by May Tobias-Papa (2010 winner of the Philippine National Book Award).

Isabel is the founder of Little Big Time Press, where she publishes artist books and zines for children. She is also a frequent contributor to Babybug and Ladybug Magazine. Her work has been recognized by American Illustration, HOW Magazine, and 3x3 Magazine of Contemporary Illustration. Her debut comic book for young readers, The Adventures of Team Pom: SQUID HAPPENS, will publish in June 2021.