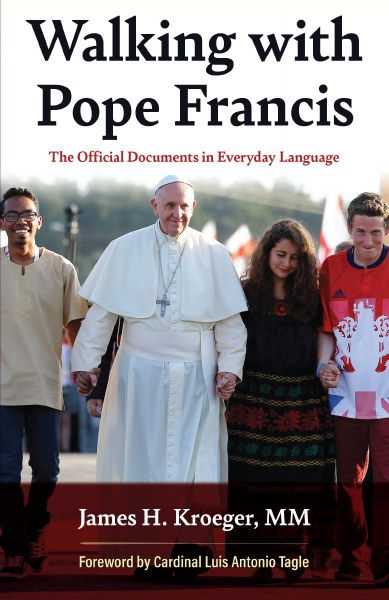 PRODUCT CODE: 9781626985131
Pope Francis
Walking with Pope Francis
€20.99
Product Details
Extent: Paperback
Pages: 186
Size: 205 mm x 134 mm
Publisher: Orbis Books
Delivery
Click and Collect - Free
Click & Collect is available across Ireland and Northern Ireland in our Veritas stores. We will contact you when your item(s) are ready for collection. Please visit your branch after you receive contact from us that your items are available to collect. The order will be ready for you within 2-5 working days, subject to opening hours, order volumes, if the item is in stock and time order is placed.
Standard Express Delivery
Complimentary shipping within Ireland & Northern of Ireland is available on orders over €100, delivery fees will be added according to the area of delivery, as described below:
Country Zone
Under €100
Over €100
TimeFrame
Ireland
€6.50
Free!
3-7 working days
Northern Ireland
€6.50
Free!
3-7 working days
| Country Zone | Under €50 | Over €50 | TimeFrame |
| --- | --- | --- | --- |
| Europe | €17.00 | €25.00 | 3-7 working days |
| USA & Canada | €35.00 | €50.00 | 7-14 working days |
| Rest of the World | €50.00 | €50.00 | 7-21 working days |
| **Trade | and | School | Customers** |
| --- | --- | --- | --- |
| Country Zone | Under €500 | Above €500 | TimeFrame |
| Ireland | €6.50 | Free! | 3-7 working days |
| Northern Ireland | €6.50 | Free! | 3-7 working days |
| UK | €12.00 | Free! | 3-7 working days |
Please Note:
• Click and collect orders are "free" as there is no shipping involved.
• If the order after discount is applied is below €100 or €500 (trade or School orders), shipping will be charged.
• EUA, Canada and Rest of the World shipping charges are for parcels with maximum weight of 2kg.
• These time frames are a guide and shipping times may vary, especially at busy periods.
• Please allow a few days leeway for personalised products or pre-orders.
• We are aware of some shipping delays throughout Europe and the USA caused by unforcing circusntances or territorial border control restrictions. This is out of our control. Please allow a few days leeway for your delivery.
• Subject to placing your order before 12:30pm. Does not apply to pre-ordered items.
• Check on our Delivery Policy page, the delivery areas. We do not deliver to Channel Islands or the Isle of Man.
Description
Walking With Pope Francis: The Official Documents in Everyday Language

To mark the tenth anniversary of Pope Francis's pontificate, here is a helpful and reader-friendly digest of ten of his most important documents.

This volume offers condensed presentations of ten pivotal documents by Pope Francis, aiming faithfully to capture the central insights of the papal documents and communicate them in ordinary language. The contents include:

Lumen Fidei (The Light of Faith, 2013) ? Evangelii Gaudium (The Joy of the Gospel, 2013) ? Misericordiae Vultus (The Face of Mercy, 2015) ? Laudato Sí (On Care for Our Common Home, 2015) ? Amoris Laetitia (The Joy of Love, 2016) ? Gaudete et Exsultate (On the Call to Holiness in Today's World, 2016) ? Christus Vivit (Christ Is Alive, 2019) ? Querida Amazonia (Beloved Amazon, 2020) ? Fratelli Tutti (On Fraternity and Social Friendship, 2020) ? Desiderio Desideravi (The Liturgical Formation of the People of God, 2022).

About the Author:
James H. Kroeger, MM, is a Maryknoll priest with a doctorate in missiology from Rome. A longtime professor of mission theology at the Loyola School of Theology and East Asian Pastoral Institute in Manila, the Philippines, he has written or edited more than thirty books, including three Orbis titles: Once Upon a Time in Asia, Living Mission, and The Gift of Mission.