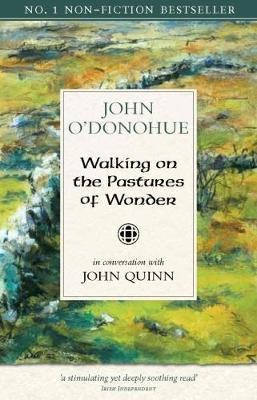 Customer Reviews (1)
Customer Reviews
Average rating:
---
As appeared in Intercom, May 2017
Reviewing books over a number of years, one of my great regrets is that it has taken me so long to truly appreciate the thoughts and writing of the late John O'Donohue. It took the volume Benedictus published shortly before his death to open my eyes to the beauty of his vision and the wonder of his lyrical style which emanates from the written word as it did from his voice.
Walking on the Pastures of Wonder is a collection of conversations that have been gathered by his close friend and former RTÉ broadcaster John Quinn. Based on radio conversations and presentations, they span many years and themes including ageing and death. But it is not a morbid or maudlin collection.
Wonder and positivity resonate throughout these pages and there is a poignancy and beauty in the words of certain prayers and descriptions which are haunting in their profundity. In one prayer alone, for a Dawn Mass on Easter Sunday, which he helped popularise around the country, he prays:
For prisoners everywhere, that though they have lost the outside world, the gifts of the inner world might be opened up to them. For those who suffer injustice in the world, those starving to death in world where there is too much food – and that we may be forgiven for our guilt in participating in systems that cause suffering to others.
A truly luminous and enlightening work.
— Veritas Publishing
Delivery
Click and Collect - Free
Click & Collect is available across Ireland and Northern Ireland in our Veritas stores. We will contact you when your item(s) are ready for collection. Please visit your branch after you receive contact from us that your items are available to collect. The order will be ready for you within 2-5 working days, subject to opening hours, order volumes, if the item is in stock and time order is placed.
Standard Express Delivery
Complimentary shipping within Ireland & Northern of Ireland is available on orders over €50, delivery fees will be added according to the area of delivery, as described below:
| Country Zone | Under €50 | Over €50 | TimeFrame |
| --- | --- | --- | --- |
| Ireland | €6.50 | Free! | 3-7 working days |
| Northern Ireland | €6.50 | Free! | 3-7 working days |
| UK | €12.00 | €15.00 | 3-7 working days |
| Europe | €17.00 | €25.00 | 3-7 working days |
| USA & Canada | €35.00 | €50.00 | 7-14 working days |
| Rest of the World | €50.00 | €50.00 | 7-21 working days |
| **Trade | and | School | Customers** |
| --- | --- | --- | --- |
| Country Zone | Under €500 | Above €500 | TimeFrame |
| Ireland | €6.00 | Free! | 3-7 working days |
| Northern Ireland | €6.00 | Free! | 3-7 working days |
| UK | €12.00 | Free! | 3-7 working days |
Please Note:
• Click and collect orders are "free" as there is no shipping involved.
• If the order after discount is applied is below €50 or €500 (trade or School orders), shipping will be charged.
• EUA, Canada and Rest of the World shipping charges are for parcels with maximum weight of 2kg.
• These time frames are a guide and shipping times may vary, especially at busy periods.
• Please allow a few days leeway for personalised products or pre-orders.
• We are aware of some shipping delays throughout Europe and the USA caused by unforcing circusntances or territorial border control restrictions. This is out of our control. Please allow a few days leeway for your delivery.
• Subject to placing your order before 12:30pm. Does not apply to pre-ordered items.
• Check on our Delivery Policy page, the delivery areas. We do not deliver to Channel Islands or the Isle of Man.
Description
Please Note:

Sales of this title are restricted to the island of Ireland.

It has been seven years since the sudden death of John O'Donohue, bestselling author of Anam Cara and Benedictus. Now, in print for the first time, comes Walking on the Pastures of Wonder, a poignant and inspirational collection of radio conversations and presentations, based on John's radio work with former RTÉ broadcaster and close friend John Quinn.

Collated by John Quinn, the conversations span a number of years and explore such themes as wonder, landscape, the medieval mystic Meister Eckhart, ageing and death.

A book of great insight and riches, presented in John O'Donohue's inimitable lyrical style, which will do much to feed the 'unprecedented spiritual hunger' that he had observed in modern society.