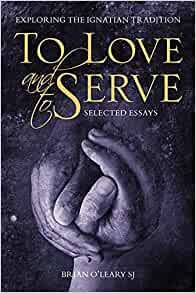 PRODUCT CODE: 9781788122641
To Love and to Serve Exploring the Ignatian Tradit
€25.00
Delivery
Click and Collect - Free
Click & Collect is available across Ireland and Northern Ireland in our Veritas stores. We will contact you when your item(s) are ready for collection. Please visit your branch after you receive contact from us that your items are available to collect. The order will be ready for you within 2-5 working days, subject to opening hours, order volumes, if the item is in stock and time order is placed.
Standard Express Delivery
Complimentary shipping within Ireland & Northern of Ireland is available on orders over €50, delivery fees will be added according to the area of delivery, as described below:
| Country Zone | Under €50 | Over €50 | TimeFrame |
| --- | --- | --- | --- |
| Ireland | €4.99 | Free! | 3-7 working days |
| Northern Ireland | €4.99 | Free! | 3-7 working days |
| UK | €12.00 | €15.00 | 3-7 working days |
| Europe | €17.00 | €25.00 | 3-7 working days |
| USA & Canada | €35.00 | €50.00 | 7-14 working days |
| Rest of the World | €50.00 | €50.00 | 7-21 working days |
| **Trade | and | School | Customers** |
| --- | --- | --- | --- |
| Country Zone | Under €500 | Above €500 | TimeFrame |
| Ireland | €6.00 | Free! | 3-7 working days |
| Northern Ireland | €6.00 | Free! | 3-7 working days |
| UK | €12.00 | Free! | 3-7 working days |
Please Note:
• These time frames are a guide and shipping times may vary, especially at busy periods.
• Please allow a few days leeway for personalised products or pre-orders.
• We are aware of some shipping delays throughout Europe and the USA caused by unforcing circusntances or territorial border control restrictions. This is out of our control. Please allow a few days leeway for your delivery.
• Subject to placing your order before 12:30pm. Does not apply to pre-ordered items.
• Check on our Delivery Policy page, the delivery areas. We do not deliver to Channel Islands or the Isle of Man.
• The shipping cost will depend on the weight of your order and this will be calculated at checkout.
Description
Brian O'Leary, an Irish Jesuit, has been researching and writing on Ignatian spirituality since the 1970s. Over that period he has authored five books, the last of which (God Ever Greater, 2018) was a selection of his lectures and talks. His new offering, To Love and To Serve, is also a selection - this time of essays that have appeared in spirituality journals in a number of countries. Since these are not easily accessible, O'Leary made the decision to gather together the best of his work in this genre into one book, so making that work more widely available. The essays vary considerably in content, purpose, and style. Some are short and aimed at a popular readership, others tend to be more academic or written with practitioners of Ignatian spirituality in mind. All are eminently readable and display great clarity of style.

Ignatian spirituality is most commonly associated with the Spiritual Exercises. Consequently these figure largely in O'Leary's writings. However, the Exercises do not represent the totality of Ignatian spirituality and so there are a number of pieces on the Jesuit Constitutions - a spiritual classic that is surprisingly relevant outside its original context. The Constitutions are frequently quoted today in the context of spiritual formation and of leadership. And then there is spiritual direction - is there a specifically Ignatian model of this ministry? There are also intriguing questions around St. Ignatius Loyola himself, perhaps most of all around his mysticism. And what would such mysticism look like if lived out in the post-modern world? The range of topics is remarkable.