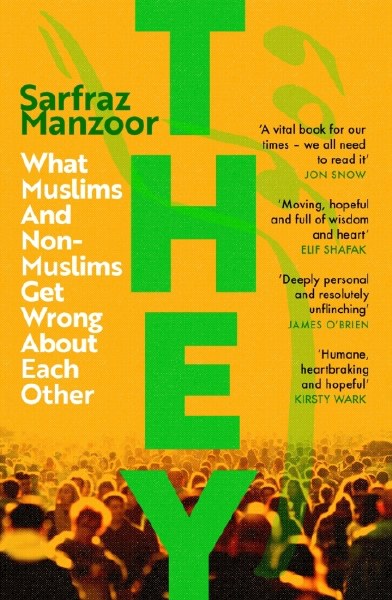 PRODUCT CODE: 9781472266842
They : What Muslims and Non-Muslims Get Wrong Abou
€12.99
Product Details
Extent: Paperback
Pages: 363
Size: 196 mm x 128 mm
Publisher: Wildfire
Delivery
Click and Collect - Free
Click & Collect is available across Ireland and Northern Ireland in our Veritas stores. We will contact you when your item(s) are ready for collection. Please visit your branch after you receive contact from us that your items are available to collect. The order will be ready for you within 2-5 working days, subject to opening hours, order volumes, if the item is in stock and time order is placed.
Standard Express Delivery
Complimentary shipping within Ireland & Northern of Ireland is available on orders over €50, delivery fees will be added according to the area of delivery, as described below:
| Country Zone | Under €50 | Over €50 | TimeFrame |
| --- | --- | --- | --- |
| Ireland | €4.99 | Free! | 3-7 working days |
| Northern Ireland | €4.99 | Free! | 3-7 working days |
| UK | €12.00 | €15.00 | 3-7 working days |
| Europe | €17.00 | €25.00 | 3-7 working days |
| USA & Canada | €35.00 | €50.00 | 7-14 working days |
| Rest of the World | €50.00 | €50.00 | 7-21 working days |
| **Trade | and | School | Customers** |
| --- | --- | --- | --- |
| Country Zone | Under €500 | Above €500 | TimeFrame |
| Ireland | €6.00 | Free! | 3-7 working days |
| Northern Ireland | €6.00 | Free! | 3-7 working days |
| UK | €12.00 | Free! | 3-7 working days |
Please Note:
• Click and collect orders are "free" as there is no shipping involved.
• If the order after discount is applied is below €50 or €500 (trade or School orders), shipping will be charged.
• EUA, Canada and Rest of the World shipping charges are for parcels with maximum weight of 2kg.
• These time frames are a guide and shipping times may vary, especially at busy periods.
• Please allow a few days leeway for personalised products or pre-orders.
• We are aware of some shipping delays throughout Europe and the USA caused by unforcing circusntances or territorial border control restrictions. This is out of our control. Please allow a few days leeway for your delivery.
• Subject to placing your order before 12:30pm. Does not apply to pre-ordered items.
• Check on our Delivery Policy page, the delivery areas. We do not deliver to Channel Islands or the Isle of Man.
Description
A RADIO 4 BOOK OF THE WEEK and a powerful and deeply personal exploration of a divided country - and a hopeful vision for change.

'This is not another book about the relationship between Muslims and non-Muslims. It is THE book. . . . Absolutely not to be missed.' - Matthew d'Ancona

Sarfraz Manzoor grew up in a working-class Pakistani Muslim family in Luton - where he was raised to believe that they were different, they had an alien culture and they would never accept him. They were white people.

In today's deeply divided Britain we are often told they are different, they have a different culture and values and they will never accept this country. This time they are Muslims.

Weaving together history, reportage and memoir, Sarfraz Manzoor journeys around Britain in search of the roots of this division - from the fear that Islam promotes violence, to the suspicion that Muslims wish to live segregated lives, to the belief that Islam is fundamentally misogynistic.

THEY is also Manzoor's search for a more positive future. We hear stories from Islamic history of a faith more tolerant and progressive than commonly assumed, and stories of hope from across the country which show how we might bridge the chasm of mutual mistrust.

THEY is at once fiercely urgent, resolutely hopeful and profoundly personal. It is the story of modern, Muslim Britain as it has never been told.