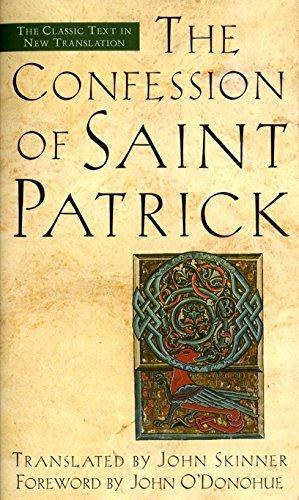 PRODUCT CODE: 0385491638
St Patrick
The Confession of Saint Patrick and Letter to Coroticus
€9.95
Product Details
Extent: Paperback
Pages: 112
Size: 4.2 x 0.2 x 7 inches
Publisher: Image; 1st edition (February 17, 1998)
Delivery
Click and Collect - Free
Click & Collect is available across Ireland and Northern Ireland in our Veritas stores. We will contact you when your item(s) are ready for collection. Please visit your branch after you receive contact from us that your items are available to collect. The order will be ready for you within 2-5 working days, subject to opening hours, order volumes, if the item is in stock and time order is placed.
Standard Express Delivery
Complimentary shipping within Ireland & Northern of Ireland is available on orders over €50, delivery fees will be added according to the area of delivery, as described below:
| Country Zone | Under €50 | Over €50 | TimeFrame |
| --- | --- | --- | --- |
| Ireland | €4.99 | Free! | 3-7 working days |
| Northern Ireland | €4.99 | Free! | 3-7 working days |
| UK | €12.00 | €15.00 | 3-7 working days |
| Europe | €17.00 | €25.00 | 3-7 working days |
| USA & Canada | €35.00 | €50.00 | 7-14 working days |
| Rest of the World | €50.00 | €50.00 | 7-21 working days |
| **Trade | and | School | Customers** |
| --- | --- | --- | --- |
| Country Zone | Under €500 | Above €500 | TimeFrame |
| Ireland | €6.00 | Free! | 3-7 working days |
| Northern Ireland | €6.00 | Free! | 3-7 working days |
| UK | €12.00 | Free! | 3-7 working days |
Please Note:
• Click and collect orders are "free" as there is no shipping involved.
• If the order after discount is applied is below €50 or €500 (trade or School orders), shipping will be charged.
• EUA, Canada and Rest of the World shipping charges are for parcels with maximum weight of 2kg.
• These time frames are a guide and shipping times may vary, especially at busy periods.
• Please allow a few days leeway for personalised products or pre-orders.
• We are aware of some shipping delays throughout Europe and the USA caused by unforcing circusntances or territorial border control restrictions. This is out of our control. Please allow a few days leeway for your delivery.
• Subject to placing your order before 12:30pm. Does not apply to pre-ordered items.
• Check on our Delivery Policy page, the delivery areas. We do not deliver to Channel Islands or the Isle of Man.
Description
The autobiography of one of the most popular saints in history, now available in a new translation.

Beyond being recognized as the patron saint of Ireland (perhaps for having chased some nonexistent snakes off the Emerald Isle), little else is popularly known about Saint Patrick. And yet, Patrick left behind a unique document, his Confession, which tells us much about both his life and his beliefs. This autobiography, originally written in the fifth century, and short by modern standards, is nonetheless a work that fascinates with its glimpse into the life of an intriguing man, and inspires with its testament of faith. Here, in this new edition from internationally acclaimed translator John Skinner, the character of Patrick, his era, and his world vividly come to life.

Also included in this volume is the only other document known to have been written by Patrick, a letter he wrote to the soldiers of Coroticus--also Christians--who had raided parts of Ireland and taken away prisoners who were then sold into slavery. This letter is a wonderful demonstration of Patrick's rhetorical fire. Quite irate, Patrick harangues his fellow Christians, and the results are every bit as autobiographically revealing as the Confession.


John O'Donohue, author of Anam Cara, provides an insightful foreword that re-creates the unique spirituality of Patrick and of the Irish people, and shows how it applies to our lives today.