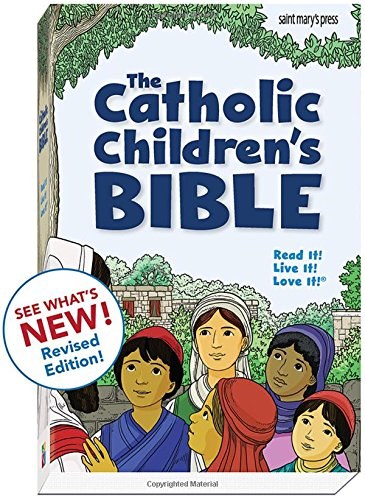 PRODUCT CODE: 9781599829296
The Catholic Children's Bible Revised Edition 2018 (Hardback)
€41.95
Product Details
Extent: Hardcover
Pages: 2000
Size: 256 mm x 168 mm
Publisher: St. Mary's Press
Delivery
Click and Collect - Free
Click & Collect is available across Ireland and Northern Ireland in our Veritas stores. We will contact you when your item(s) are ready for collection. Please visit your branch after you receive contact from us that your items are available to collect. The order will be ready for you within 2-5 working days, subject to opening hours, order volumes, if the item is in stock and time order is placed.
Standard Express Delivery
Complimentary shipping within Ireland & Northern of Ireland is available on orders over €50, delivery fees will be added according to the area of delivery, as described below:
| Country Zone | Under €50 | Over €50 | TimeFrame |
| --- | --- | --- | --- |
| Ireland | €6.50 | Free! | 3-7 working days |
| Northern Ireland | €6.50 | Free! | 3-7 working days |
| UK | €12.00 | €15.00 | 3-7 working days |
| Europe | €17.00 | €25.00 | 3-7 working days |
| USA & Canada | €35.00 | €50.00 | 7-14 working days |
| Rest of the World | €50.00 | €50.00 | 7-21 working days |
| **Trade | and | School | Customers** |
| --- | --- | --- | --- |
| Country Zone | Under €500 | Above €500 | TimeFrame |
| Ireland | €6.00 | Free! | 3-7 working days |
| Northern Ireland | €6.00 | Free! | 3-7 working days |
| UK | €12.00 | Free! | 3-7 working days |
Please Note:
• Click and collect orders are "free" as there is no shipping involved.
• If the order after discount is applied is below €50 or €500 (trade or School orders), shipping will be charged.
• EUA, Canada and Rest of the World shipping charges are for parcels with maximum weight of 2kg.
• These time frames are a guide and shipping times may vary, especially at busy periods.
• Please allow a few days leeway for personalised products or pre-orders.
• We are aware of some shipping delays throughout Europe and the USA caused by unforcing circusntances or territorial border control restrictions. This is out of our control. Please allow a few days leeway for your delivery.
• Subject to placing your order before 12:30pm. Does not apply to pre-ordered items.
• Check on our Delivery Policy page, the delivery areas. We do not deliver to Channel Islands or the Isle of Man.
Description
The first-ever Catholic Children's Bible is now better than ever! This complete Bible inspires and empowers children to read, understand, and love the Word of God, in a revised edition.

With new, easy-to-follow Reading Plans and colorful stickers, the stories of our Catholic faith come alive with vivid, awe-inspiring artwork, larger text, and design features that not only enhance comprehension but create enjoyment.

Reading Plans with stickers guide children through themes like Great Stories of Faith, the Miracles of Jesus, Following Jesus, and The Mass

Children will know and understand God's saving plan, revealed through 125 Feature Story spreads highlighting key Bible passages.

Understand It! sections enable children to comprehend central themes by using child-friendly backgrounds and commentary.

Live It! instructions encourage children to apply the meaning of each story to their lives through engaging activities and prayers.

Tell It! frames help children to retain and comprehend the passage by having them retell the story in their own words.

Vibrant illustrations immediately engage children and allow them to "dive in" to Scripture and become immersed in the stories.

Intentional navigational and design elements such as fonts built for early readers, increased line spacing, bold vocabulary words, colorized text, and column dividers help to make this a Bible children can easily navigate and read on their own.