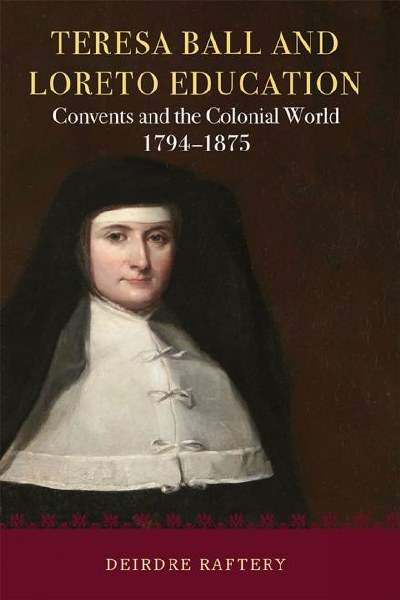 PRODUCT CODE: 9781846829765
Mother Teresa
Teresa Ball and Loreto Education. Convents and the Colonial World
€40.00
Delivery
Click and Collect - Free
Click & Collect is available across Ireland and Northern Ireland in our Veritas stores. We will contact you when your item(s) are ready for collection. Please visit your branch after you receive contact from us that your items are available to collect. The order will be ready for you within 2-5 working days, subject to opening hours, order volumes, if the item is in stock and time order is placed.
Standard Express Delivery
Complimentary shipping within Ireland & Northern of Ireland is available on orders over €50, delivery fees will be added according to the area of delivery, as described below:
| Country Zone | Under €50 | Over €50 | TimeFrame |
| --- | --- | --- | --- |
| Ireland | €4.99 | Free! | 3-7 working days |
| Northern Ireland | €4.99 | Free! | 3-7 working days |
| UK | €12.00 | €15.00 | 3-7 working days |
| Europe | €17.00 | €25.00 | 3-7 working days |
| USA & Canada | €35.00 | €50.00 | 7-14 working days |
| Rest of the World | €50.00 | €50.00 | 7-21 working days |
| **Trade | and | School | Customers** |
| --- | --- | --- | --- |
| Country Zone | Under €500 | Above €500 | TimeFrame |
| Ireland | €6.00 | Free! | 3-7 working days |
| Northern Ireland | €6.00 | Free! | 3-7 working days |
| UK | €12.00 | Free! | 3-7 working days |
Please Note:
• Click and collect orders are "free" as there is no shipping involved.
• If the order after discount is applied is below €50 or €500 (trade or School orders), shipping will be charged.
• EUA, Canada and Rest of the World shipping charges are for parcels with maximum weight of 2kg.
• These time frames are a guide and shipping times may vary, especially at busy periods.
• Please allow a few days leeway for personalised products or pre-orders.
• We are aware of some shipping delays throughout Europe and the USA caused by unforcing circusntances or territorial border control restrictions. This is out of our control. Please allow a few days leeway for your delivery.
• Subject to placing your order before 12:30pm. Does not apply to pre-ordered items.
• Check on our Delivery Policy page, the delivery areas. We do not deliver to Channel Islands or the Isle of Man.
Description
About the book:
Educated at the Bar Convent, York, Teresa Ball became a pioneer of girls' education when she returned to Ireland in 1821 and opened Loreto Abbey convent and boarding school in 1822. The Dublin convent quickly attracted the daughters of the Irish elite, not only as pupils but also as postulants and novices. The expansion of Loreto convents in Ireland saw the nuns extend academic education to the daughters of the rising Catholic middle class. Teresa Ball also established free schools for the poor, which were attached to each convent.

The convents provided a supply of nuns who established a network of Loreto foundations in nineteenth-century India, Mauritius, Gibraltar, Canada, England, Spain and Australia. How did these Irish women make foundations in parts of the British empire, and what kind of distinctive 'Loreto education' did they bring with them? The book draws on extensive archival research to answer these questions, while providing a new and important account of girls' schooling.

The book also provides an original study of the Balls and their social world in Dublin at the start of the nineteenth century. Their network included members of the Catholic Committee, members of the Catholic church hierarchy and wealthy Catholic merchants. The book gives new insight into how women operated in the margins of this Catholic world. It also shows how the education of the Ball children, at York and Stonyhurst, positioned them for success in Catholic society, at a time when the confidence of their church was growing in Ireland.

About the author:
Deirdre Raftery is professor of the history of education at University College Dublin. Author of many publications, she is an elected Fellow of the Royal Historical Society. She has held many awards including a Fulbright (Boston College), and a visiting fellowship at the University of Oxford.