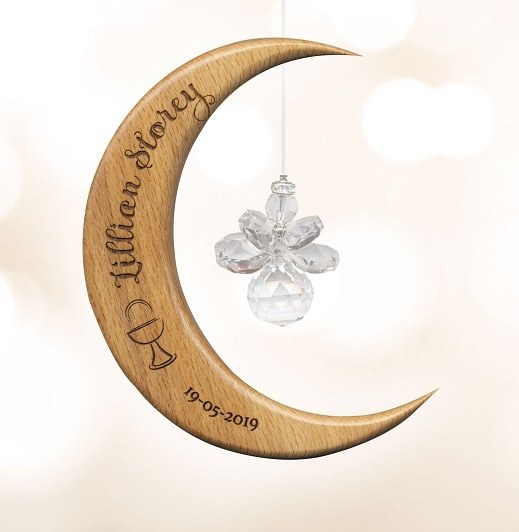 PRODUCT CODE: 10000620
First Holy Communion
Personalised First Communion Angel Moon
€59.95
Delivery in 7 - 10 working days
Eligible for free delivery
Customer Reviews (2)
Customer Reviews
Average rating:
---
Love this product
My granddaughter absolutely loved it as well. I felt it was so much more Important she had something to look at in future to remind her of her special day, then money which slips away. Veritas were a pleasure to deal with, delivery excellent and I got an email To notify me that it may not be in time for the date that was being printed on it. I was blown away by the fact that someone noticed, that my gift might be late for the actual communion day. A million thanks to Bernie for that notification and her awareness of the fact that it would be late for the actual date.
Customer service at its best.

Maura H
— Maura Hunter
---
Personalised First Communion Angel Moon
The picture on the site does not do this item justice.
very high quality item. Great value & very fast delivery.
— Paddy Mckittrick
Delivery
Click and Collect - Free
Click & Collect is available across Ireland and Northern Ireland in our Veritas stores. We will contact you when your item(s) are ready for collection. Please visit your branch after you receive contact from us that your items are available to collect. The order will be ready for you within 2-5 working days, subject to opening hours, order volumes, if the item is in stock and time order is placed.
Standard Express Delivery
Complimentary shipping within Ireland & Northern of Ireland is available on orders over €50, delivery fees will be added according to the area of delivery, as described below:
| Country Zone | Under €50 | Over €50 | TimeFrame |
| --- | --- | --- | --- |
| Ireland | €6.50 | Free! | 3-7 working days |
| Northern Ireland | €6.50 | Free! | 3-7 working days |
| UK | €12.00 | €15.00 | 3-7 working days |
| Europe | €17.00 | €25.00 | 3-7 working days |
| USA & Canada | €35.00 | €50.00 | 7-14 working days |
| Rest of the World | €50.00 | €50.00 | 7-21 working days |
| **Trade | and | School | Customers** |
| --- | --- | --- | --- |
| Country Zone | Under €500 | Above €500 | TimeFrame |
| Ireland | €6.00 | Free! | 3-7 working days |
| Northern Ireland | €6.00 | Free! | 3-7 working days |
| UK | €12.00 | Free! | 3-7 working days |
Please Note:
• Click and collect orders are "free" as there is no shipping involved.
• If the order after discount is applied is below €50 or €500 (trade or School orders), shipping will be charged.
• EUA, Canada and Rest of the World shipping charges are for parcels with maximum weight of 2kg.
• These time frames are a guide and shipping times may vary, especially at busy periods.
• Please allow a few days leeway for personalised products or pre-orders.
• We are aware of some shipping delays throughout Europe and the USA caused by unforcing circusntances or territorial border control restrictions. This is out of our control. Please allow a few days leeway for your delivery.
• Subject to placing your order before 12:30pm. Does not apply to pre-ordered items.
• Check on our Delivery Policy page, the delivery areas. We do not deliver to Channel Islands or the Isle of Man.
Description
Unique, Inscribed, Personalised Wood and Crystal Moon Suncatcher. Hand crafted in Ireland from Irish wood. Crystals used are Egyptian Asfour.

Angel is made up of 3cm Egyptian Asfour crystal prism, Tibetan silver wings and 18mm Asfour crystal prism as a head and Preciosa crown. Wood: 5" or 12cm High (Irish Beech)

When in direct sunlight the crystals act as a prism and produce a wonderful array of rainbows on your walls. Each piece is finished with 8-12 coats of danish oil (depending on absorbency of wood) to what we believe is the perfect sheen.

The above image is a sample. The characteristics of each piece of wood will vary slightly. We are very conscious of making sure that each and every piece is of equal natural beauty.

Please add your child's name and date of Communion in the fields above.
Please allow 7-10 working days for delivery for personalisation.