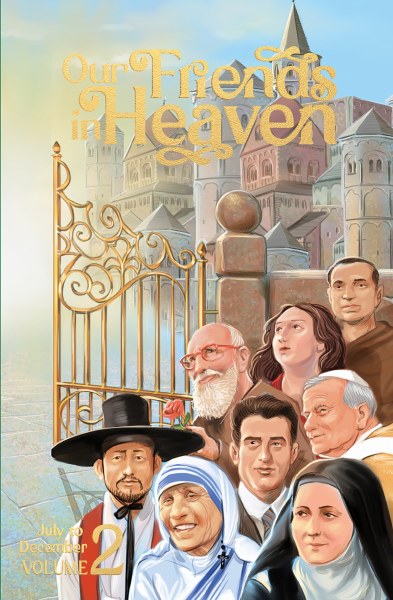 PRODUCT CODE: 9780819855220
Our Friends in Heaven, Volume 2
€16.95
Product Details
Extent: Paperback
Pages: 270
Publisher: Pauline Books and Media
Delivery
Click and Collect - Free
Click & Collect is available across Ireland and Northern Ireland in our Veritas stores. We will contact you when your item(s) are ready for collection. Please visit your branch after you receive contact from us that your items are available to collect. The order will be ready for you within 2-5 working days, subject to opening hours, order volumes, if the item is in stock and time order is placed.
Standard Express Delivery
Complimentary shipping within Ireland & Northern of Ireland is available on orders over €50, delivery fees will be added according to the area of delivery, as described below:
| Country Zone | Under €50 | Over €50 | TimeFrame |
| --- | --- | --- | --- |
| Ireland | €4.99 | Free! | 3-7 working days |
| Northern Ireland | €4.99 | Free! | 3-7 working days |
| UK | €12.00 | €15.00 | 3-7 working days |
| Europe | €17.00 | €25.00 | 3-7 working days |
| USA & Canada | €35.00 | €50.00 | 7-14 working days |
| Rest of the World | €50.00 | €50.00 | 7-21 working days |
| **Trade | and | School | Customers** |
| --- | --- | --- | --- |
| Country Zone | Under €500 | Above €500 | TimeFrame |
| Ireland | €6.00 | Free! | 3-7 working days |
| Northern Ireland | €6.00 | Free! | 3-7 working days |
| UK | €12.00 | Free! | 3-7 working days |
Please Note:
• Click and collect orders are "free" as there is no shipping involved.
• If the order after discount is applied is below €50 or €500 (trade or School orders), shipping will be charged.
• EUA, Canada and Rest of the World shipping charges are for parcels with maximum weight of 2kg.
• These time frames are a guide and shipping times may vary, especially at busy periods.
• Please allow a few days leeway for personalised products or pre-orders.
• We are aware of some shipping delays throughout Europe and the USA caused by unforcing circusntances or territorial border control restrictions. This is out of our control. Please allow a few days leeway for your delivery.
• Subject to placing your order before 12:30pm. Does not apply to pre-ordered items.
• Check on our Delivery Policy page, the delivery areas. We do not deliver to Channel Islands or the Isle of Man.
Description
The saints are friends of God, and they want to become your friends, too! Some saints played soccer or rode horses. Others stood up for those who were being bullied and bravely worked for justice. Every saint has a unique story to share. Introduce intermediate readers to the amazing life stories of the saints. In print for decades, this fourth edition of a classic, bestselling, two-volume set of books contains engaging stories on a variety of saints for each day of the year.


Daughters of St Paul
Some of you may know us online as the "media nuns." Our sisters were founded in 1915 to spread the Gospel using all forms of media. We came to the United States in 1932 and very soon after began the now well-known and trusted Catholic publishing house, Pauline Books and Media. In the beginning, our sisters ran the printing presses and worked in the bindery to produce books we then sold door-to-door and in our bookstores. We outsource our printing now but our sisters still know the printing business like the back of our hands. We know and love books.
We love to publish beautiful books for people who love Jesus and books as much as we do.