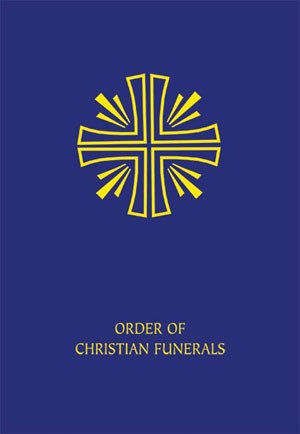 PRODUCT CODE: 1853901989
Order of Christian Funerals
€42.00
Product Details
Extent: Hardcover
Pages: 269
Size: 25 x 17 x 2.5 cm
Publisher: Veritas Publications
Delivery
Click and Collect - Free
Click & Collect is available across Ireland and Northern Ireland in our Veritas stores. We will contact you when your item(s) are ready for collection. Please visit your branch after you receive contact from us that your items are available to collect. The order will be ready for you within 2-5 working days, subject to opening hours, order volumes, if the item is in stock and time order is placed.
Standard Express Delivery
Complimentary shipping within Ireland & Northern of Ireland is available on orders over €100, delivery fees will be added according to the area of delivery, as described below:
Country Zone
Under €100
Over €100
TimeFrame
Ireland
€6.50
Free!
3-7 working days
Northern Ireland
€6.50
Free!
3-7 working days
| Country Zone | Under €50 | Over €50 | TimeFrame |
| --- | --- | --- | --- |
| Europe | €17.00 | €25.00 | 3-7 working days |
| USA & Canada | €35.00 | €50.00 | 7-14 working days |
| Rest of the World | €50.00 | €50.00 | 7-21 working days |
| **Trade | and | School | Customers** |
| --- | --- | --- | --- |
| Country Zone | Under €500 | Above €500 | TimeFrame |
| Ireland | €6.50 | Free! | 3-7 working days |
| Northern Ireland | €6.50 | Free! | 3-7 working days |
| UK | €12.00 | Free! | 3-7 working days |
Please Note:
• Click and collect orders are "free" as there is no shipping involved.
• If the order after discount is applied is below €100 or €500 (trade or School orders), shipping will be charged.
• EUA, Canada and Rest of the World shipping charges are for parcels with maximum weight of 2kg.
• These time frames are a guide and shipping times may vary, especially at busy periods.
• Please allow a few days leeway for personalised products or pre-orders.
• We are aware of some shipping delays throughout Europe and the USA caused by unforcing circusntances or territorial border control restrictions. This is out of our control. Please allow a few days leeway for your delivery.
• Subject to placing your order before 12:30pm. Does not apply to pre-ordered items.
• Check on our Delivery Policy page, the delivery areas. We do not deliver to Channel Islands or the Isle of Man.
Description
The Order of Christian Funerals is the work of the international Commission for English in the Liturgy, based on the Ordo Exsequiarum, the funeral rites revised after the Second Vatican Council. The Council's Constitution on the Sacred Liturgy directed that the rites should express more clearly the paschal character of Christian death (SC 81). This Order offers us fuller rites adapted to Irish circumstances by the Irish Episcopal Commission for Liturgy and approved by the Irish Bishops' Conference.
In the face of death, the Church provides us, in our grief and loss, with a proclamation of hope. We are created for eternal life and everyone who is baptised shares in the death and resurrection of Jesus. `You have been taught', St Paul wrote to the Romans, `that when we were baptised in Christ Jesus we were baptised into his death; in other words when we were baptised we went into the tomb with him and joined him in death, so that as Christ was raised from the dead by the Father's glory, we too might live a new life. If in union with Christ we have imitated his death, we shall also imitate him in his resurrection' (Rom 6:3-5).
With prayer and ritual, we journey with the body of the deceased, honouring that body and commending the dead to God's merciful love. The principal celebration of the Christian funeral is the Mass, the memorial of the death and resurrection of Christ. At the Mass we pray that the divine life given to us at baptism may be brought to its fulfilment in eternal glory.
We also journey with those who mourn, for we recognise the pain of bereavement. This is part of the ministry of consolation, put simply and eloquently in the introduction to the Order: to care for the dying, to pray for the dead, to comfort those who mourn.
- Cahal B. Daly, Cardinal Archbishop of Armagh, Primate of all Ireland