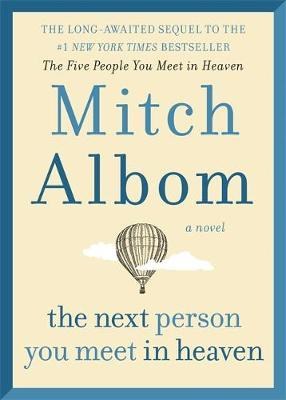 PRODUCT CODE: 9780751571899
OP - The Next Person You Meet In Heaven
€16.95
Product Details
Extent: Hardcover
Pages: 224
Publisher: Little, Brown Book Group
Delivery
Click and Collect - Free
Click & Collect is available across Ireland and Northern Ireland in our Veritas stores. We will contact you when your item(s) are ready for collection. Please visit your branch after you receive contact from us that your items are available to collect. The order will be ready for you within 2-5 working days, subject to opening hours, order volumes, if the item is in stock and time order is placed.
Standard Express Delivery
Complimentary shipping within Ireland & Northern of Ireland is available on orders over €50, delivery fees will be added according to the area of delivery, as described below:
| Country Zone | Under €50 | Over €50 | TimeFrame |
| --- | --- | --- | --- |
| Ireland | €4.99 | Free! | 3-7 working days |
| Northern Ireland | €4.99 | Free! | 3-7 working days |
| UK | €12.00 | €15.00 | 3-7 working days |
| Europe | €17.00 | €25.00 | 3-7 working days |
| USA & Canada | €35.00 | €50.00 | 7-14 working days |
| Rest of the World | €50.00 | €50.00 | 7-21 working days |
| **Trade | and | School | Customers** |
| --- | --- | --- | --- |
| Country Zone | Under €500 | Above €500 | TimeFrame |
| Ireland | €6.00 | Free! | 3-7 working days |
| Northern Ireland | €6.00 | Free! | 3-7 working days |
| UK | €12.00 | Free! | 3-7 working days |
Please Note:
• These time frames are a guide and shipping times may vary, especially at busy periods.
• Please allow a few days leeway for personalised products or pre-orders.
• We are aware of some shipping delays throughout Europe and the USA caused by unforcing circusntances or territorial border control restrictions. This is out of our control. Please allow a few days leeway for your delivery.
• Subject to placing your order before 12:30pm. Does not apply to pre-ordered items.
• Check on our Delivery Policy page, the delivery areas. We do not deliver to Channel Islands or the Isle of Man.
• The shipping cost will depend on the weight of your order and this will be calculated at checkout.
Description
Fifteen years ago, in Mitch Albom's beloved novel, The Five People You Meet in Heaven, the world fell in love with Eddie, a grizzled war veteran- turned-amusement park mechanic who died saving the life of a young girl named Annie. Eddie's journey to heaven taught him that every life matters. Now, in this magical sequel, Mitch Albom reveals Annie's story.

The accident that killed Eddie left an indelible mark on Annie. It took her left hand, which needed to be surgically reattached. Injured, scarred, and unable to remember why, Annie's life is forever changed by a guilt-ravaged mother who whisks her away from the world she knew. Bullied by her peers and haunted by something she cannot recall, Annie struggles to find acceptance as she grows. When, as a young woman, she reconnects with Paulo, her childhood love, she believes she has finally found happiness.

As the novel opens, Annie is marrying Paulo. But when her wedding night day ends in an unimaginable accident, Annie finds herself on her own heavenly journey - and an inevitable reunion with Eddie, one of the five people who will show her how her life mattered in ways she could not have fathomed.

Poignant and beautiful, filled with unexpected twists, The Next Person You Meet in Heaven reminds us that not only does every life matter, but that every ending is also a beginning - we only need to open our eyes to see it.