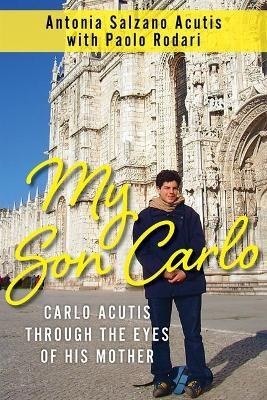 PRODUCT CODE: 9781639660254
New releases
My Son Carlo: Carlo Acutis Through the eyes of his mother
€27.95
Delivery
Click and Collect - Free
Click & Collect is available across Ireland and Northern Ireland in our Veritas stores. We will contact you when your item(s) are ready for collection. Please visit your branch after you receive contact from us that your items are available to collect. The order will be ready for you within 2-5 working days, subject to opening hours, order volumes, if the item is in stock and time order is placed.
Standard Express Delivery
Complimentary shipping within Ireland & Northern of Ireland is available on orders over €50, delivery fees will be added according to the area of delivery, as described below:
| Country Zone | Under €50 | Over €50 | TimeFrame |
| --- | --- | --- | --- |
| Ireland | €6.50 | Free! | 3-7 working days |
| Northern Ireland | €6.50 | Free! | 3-7 working days |
| UK | €12.00 | €15.00 | 3-7 working days |
| Europe | €17.00 | €25.00 | 3-7 working days |
| USA & Canada | €35.00 | €50.00 | 7-14 working days |
| Rest of the World | €50.00 | €50.00 | 7-21 working days |
| **Trade | and | School | Customers** |
| --- | --- | --- | --- |
| Country Zone | Under €500 | Above €500 | TimeFrame |
| Ireland | €6.00 | Free! | 3-7 working days |
| Northern Ireland | €6.00 | Free! | 3-7 working days |
| UK | €12.00 | Free! | 3-7 working days |
Please Note:
• Click and collect orders are "free" as there is no shipping involved.
• If the order after discount is applied is below €50 or €500 (trade or School orders), shipping will be charged.
• EUA, Canada and Rest of the World shipping charges are for parcels with maximum weight of 2kg.
• These time frames are a guide and shipping times may vary, especially at busy periods.
• Please allow a few days leeway for personalised products or pre-orders.
• We are aware of some shipping delays throughout Europe and the USA caused by unforcing circusntances or territorial border control restrictions. This is out of our control. Please allow a few days leeway for your delivery.
• Subject to placing your order before 12:30pm. Does not apply to pre-ordered items.
• Check on our Delivery Policy page, the delivery areas. We do not deliver to Channel Islands or the Isle of Man.
Description
** PRE-ORDER ONLY**
*Expected Early July 2023*

Since he was beatified in 2020, Carlo Acutis has been the subject of widespread interest across the globe. The typical Italian teenager who lived a life of extraordinary virtue has captivated countless millions. And yet, even with the worldwide attention on this millennial saint, we're left wondering and wanting more. What was Carlo really like? How did he interact with those closest to him in daily life? What was it like to live in the same home as him?

In My Son Carlo, Antonia Salzano Acutis shares for the first time the intimate, private moments of her son's life, including his final days in vivid detail before he died from leukemia at the age of 15. In her own words, Antonia shares stories and memories as a mother who lost her son too early but was forever shaped by his remarkable life. Carlo has quickly become a favorite patron in heaven, changing the lives of those who pray for his intercession. In this book, Antonia shares how Carlo desires to bring people to Jesus, like he did for her, helping her rekindle her faith: "This was his secret: that he had a constant, intimate relationship with Jesus. He wanted everyone he encountered to have this kind of relationship like he did. He did not consider it to be something just for him. He was convinced that this relationship was accessible to all."