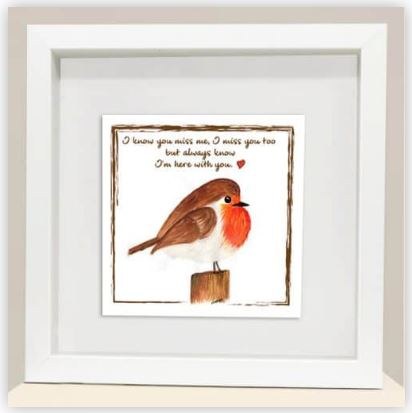 PRODUCT CODE: 10001086
Memorial
Red Robin Miss You Frame
€29.95
Delivery
Click and Collect - Free
Click & Collect is available across Ireland and Northern Ireland in our Veritas stores. We will contact you when your item(s) are ready for collection. Please visit your branch after you receive contact from us that your items are available to collect. The order will be ready for you within 2-5 working days, subject to opening hours, order volumes, if the item is in stock and time order is placed.
Standard Express Delivery
Complimentary shipping within Ireland & Northern of Ireland is available on orders over €100, delivery fees will be added according to the area of delivery, as described below:
Country Zone
Under €100
Over €100
TimeFrame
Ireland
€6.50
Free!
3-7 working days
Northern Ireland
€6.50
Free!
3-7 working days
| Country Zone | Under €50 | Over €50 | TimeFrame |
| --- | --- | --- | --- |
| Europe | €17.00 | €25.00 | 3-7 working days |
| USA & Canada | €35.00 | €50.00 | 7-14 working days |
| Rest of the World | €50.00 | €50.00 | 7-21 working days |
| **Trade | and | School | Customers** |
| --- | --- | --- | --- |
| Country Zone | Under €500 | Above €500 | TimeFrame |
| Ireland | €6.50 | Free! | 3-7 working days |
| Northern Ireland | €6.50 | Free! | 3-7 working days |
| UK | €12.00 | Free! | 3-7 working days |
Please Note:
• Click and collect orders are "free" as there is no shipping involved.
• If the order after discount is applied is below €100 or €500 (trade or School orders), shipping will be charged.
• EUA, Canada and Rest of the World shipping charges are for parcels with maximum weight of 2kg.
• These time frames are a guide and shipping times may vary, especially at busy periods.
• Please allow a few days leeway for personalised products or pre-orders.
• We are aware of some shipping delays throughout Europe and the USA caused by unforcing circusntances or territorial border control restrictions. This is out of our control. Please allow a few days leeway for your delivery.
• Subject to placing your order before 12:30pm. Does not apply to pre-ordered items.
• Check on our Delivery Policy page, the delivery areas. We do not deliver to Channel Islands or the Isle of Man.
Description
Red Robin Miss You Memorial Frame

Inspirations:
Our Inspirations Range was born out of the desire to show our daughters, daughter-in-laws, mothers, sisters, friends, nieces, grand daughters and anyone else we care about to rise and live the best life they can envisage for themselves. Full of hope and love, the messages here will resonate and give them something meaningful and to always remember how wonderful they are or could be in this life.

Red Robin Range:
Most people love little Red Robins and have a story to tell about them. Our little Red Robin Range bring messages of hope, love and care to those who need them. Quite often we associate Red Robins with bringing messages from our loved ones and each of the messages in these beautiful frames will bring comfort to those to whom they are gifted to. Forever they will have a memento of those they loved. These framed Robins are a gift that will be treasured forever.

Frame size: 25.5 x 25.5 x 4.5cm.