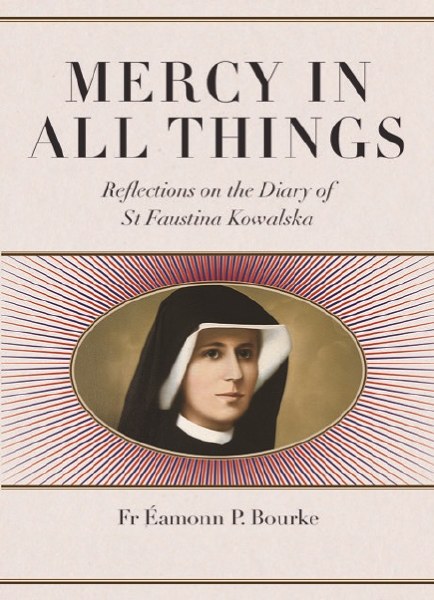 Product Details
Extent: Paperback
Pages: 110
Publisher: Veritas Publications
Customer Reviews (2)
Customer Reviews
Average rating:
---
1 of 1 people found this review useful:
Brilliant
Extremely relevant and relatable, every reading hits home.
— Brían Foy
---
1 of 1 people found this review useful:
As appeared in Intercom, May 2019
In Evangelii Gaudium (126), Pope Francis writes: 'Expressions of popular piety have much to teach us; for those who are capable of reading them they are a locus theologicus which demands our attention, especially at a time when we are looking to the new evangelisation.'
It's fair to say that the devotion to the Divine Mercy, based on the life and writings of St Faustina Kowalska (1905-1938), has become a staple of popular piety in our day. Countless believers have been enriched by the insights, simplicity and courage of a young Polish nun, who struggled to enter religious life, then lived her vocation in obscurity and illness, before dying at the age of thirty-three.
In this small volume, Fr Éamonn P. Bourke shows that this particular strand of popular piety has theological weight and substance. He does this in thirty short chapters, each of which has a threefold format. First, there is a brief excerpt from the diary of St Faustina, which is followed by a reflection, which in turn leads into a concluding section entitled, 'For your prayer.'
This has been my first contact with the writings of St Faustina, and I have been struck by the simplicity and accuracy of her insights. Who needs 'mindfulness,' when one of our own saints can tell us, with candour: 'For the Spirit of God to act in the soul, peace and recollection are needed'? Or again, in our screen-saturated environment, we could listen to Faustina describing how she overcame the distraction of the radio playing, each afternoon, in her convent: 'Yet nothing disturbs me now, neither the talking nor the radio…'
To the saint's rock-solid simplicity, Fr Bourke brings the sensitivity of the spiritual director (a role he has occupied on both sides of the Atlantic, as a director in the Ignatian contemplative vein). His reflections are down-to-earth, and his suggestions for prayer invite us to attend to the movement of spirits within us. How are you feeling right now? What experiences of your life are causing
— The Editor, Intercom, May 2019
Delivery
Click and Collect - Free
Click & Collect is available across Ireland and Northern Ireland in our Veritas stores. We will contact you when your item(s) are ready for collection. Please visit your branch after you receive contact from us that your items are available to collect. The order will be ready for you within 2-5 working days, subject to opening hours, order volumes, if the item is in stock and time order is placed.
Standard Express Delivery
Complimentary shipping within Ireland & Northern of Ireland is available on orders over €50, delivery fees will be added according to the area of delivery, as described below:
| Country Zone | Under €50 | Over €50 | TimeFrame |
| --- | --- | --- | --- |
| Ireland | €6.50 | Free! | 3-7 working days |
| Northern Ireland | €6.50 | Free! | 3-7 working days |
| UK | €12.00 | €15.00 | 3-7 working days |
| Europe | €17.00 | €25.00 | 3-7 working days |
| USA & Canada | €35.00 | €50.00 | 7-14 working days |
| Rest of the World | €50.00 | €50.00 | 7-21 working days |
| **Trade | and | School | Customers** |
| --- | --- | --- | --- |
| Country Zone | Under €500 | Above €500 | TimeFrame |
| Ireland | €6.00 | Free! | 3-7 working days |
| Northern Ireland | €6.00 | Free! | 3-7 working days |
| UK | €12.00 | Free! | 3-7 working days |
Please Note:
• Click and collect orders are "free" as there is no shipping involved.
• If the order after discount is applied is below €50 or €500 (trade or School orders), shipping will be charged.
• EUA, Canada and Rest of the World shipping charges are for parcels with maximum weight of 2kg.
• These time frames are a guide and shipping times may vary, especially at busy periods.
• Please allow a few days leeway for personalised products or pre-orders.
• We are aware of some shipping delays throughout Europe and the USA caused by unforcing circusntances or territorial border control restrictions. This is out of our control. Please allow a few days leeway for your delivery.
• Subject to placing your order before 12:30pm. Does not apply to pre-ordered items.
• Check on our Delivery Policy page, the delivery areas. We do not deliver to Channel Islands or the Isle of Man.
Description
'Act in such a way that all those who come in contact with you will go away joyful. Sow happiness about you because you have received much from God.' St Faustina
Mercy In All Things is a series of prayerful reflections based on the Diary of St Faustina, the Saint of Divine Mercy. Drawing on selected quotations from her Diary, these thoughtful and topical reflections provide an introduction to the prayer of this great saint, who dedicated her life to spreading the message of God's love through devotion to the Merciful Jesus.