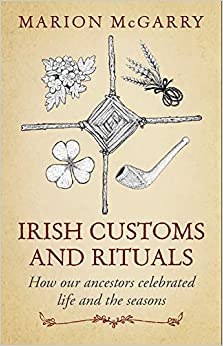 PRODUCT CODE: 9781786050953
Irish Customs and Rituals How Our Ancestors
€12.00
Delivery
Click and Collect - Free
Click & Collect is available across Ireland and Northern Ireland in our Veritas stores. We will contact you when your item(s) are ready for collection. Please visit your branch after you receive contact from us that your items are available to collect. The order will be ready for you within 2-5 working days, subject to opening hours, order volumes, if the item is in stock and time order is placed.
Standard Express Delivery
Complimentary shipping within Ireland & Northern of Ireland is available on orders over €50, delivery fees will be added according to the area of delivery, as described below:
| Country Zone | Under €50 | Over €50 | TimeFrame |
| --- | --- | --- | --- |
| Ireland | €6.50 | Free! | 3-7 working days |
| Northern Ireland | €6.50 | Free! | 3-7 working days |
| UK | €12.00 | €15.00 | 3-7 working days |
| Europe | €17.00 | €25.00 | 3-7 working days |
| USA & Canada | €35.00 | €50.00 | 7-14 working days |
| Rest of the World | €50.00 | €50.00 | 7-21 working days |
| **Trade | and | School | Customers** |
| --- | --- | --- | --- |
| Country Zone | Under €500 | Above €500 | TimeFrame |
| Ireland | €6.00 | Free! | 3-7 working days |
| Northern Ireland | €6.00 | Free! | 3-7 working days |
| UK | €12.00 | Free! | 3-7 working days |
Please Note:
• Click and collect orders are "free" as there is no shipping involved.
• If the order after discount is applied is below €50 or €500 (trade or School orders), shipping will be charged.
• EUA, Canada and Rest of the World shipping charges are for parcels with maximum weight of 2kg.
• These time frames are a guide and shipping times may vary, especially at busy periods.
• Please allow a few days leeway for personalised products or pre-orders.
• We are aware of some shipping delays throughout Europe and the USA caused by unforcing circusntances or territorial border control restrictions. This is out of our control. Please allow a few days leeway for your delivery.
• Subject to placing your order before 12:30pm. Does not apply to pre-ordered items.
• Check on our Delivery Policy page, the delivery areas. We do not deliver to Channel Islands or the Isle of Man.
Description
Do you know what a Brideóg is? Why are lone hawthorns unlucky? What does it mean to 'drown the shamrock'? From the author of The Irish Cottage comes a new book, exploring old Irish customs and beliefs. Chapters focus on the quarter-day festivities that marked the commencement of each season: 'Spring: Imbolc'; 'Summer: Bealtaine'; 'Autumn: Lughnasa' and 'Winter: Samhain', and also major life events -- 'Births, Marriages and Death Customs' -- and general beliefs in 'Spirituality and Well-Being' and 'The Supernatural'. Focusing on the period from the mid-nineteenth to the mid-twentieth centuries, Irish Customs and Rituals discusses a time during which many of the practices and beliefs in question went into decline. Many of these customs were rooted in residual pre-Christian beliefs that ran parallel to, and in spite of, conventional religion practised in the country. Some customs were so deep-rooted that despite continued disapproval from the Roman Catholic Church they remain with us today. It is wonderful to see so many traditions still with us, as many are worthwhile remembering, commemorating, or even reviving today. Irish Customs and Rituals will appeal to all those with an interest in Irish history, folklore, culture and social history.