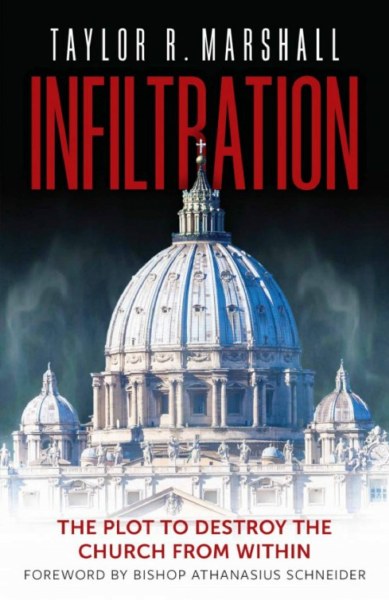 PRODUCT CODE: 9781622828463
Infiltration: The Plot to Destroy the Church from Within
€24.95
Product Details
Extent: Hardcover
Pages: 224
Size: 6 x 0.8 x 9 inches
Publisher: Sophia Institute Press
Delivery
Click and Collect - Free
Click & Collect is available across Ireland and Northern Ireland in our Veritas stores. We will contact you when your item(s) are ready for collection. Please visit your branch after you receive contact from us that your items are available to collect. The order will be ready for you within 2-5 working days, subject to opening hours, order volumes, if the item is in stock and time order is placed.
Standard Express Delivery
Complimentary shipping within Ireland & Northern of Ireland is available on orders over €50, delivery fees will be added according to the area of delivery, as described below:
| Country Zone | Under €50 | Over €50 | TimeFrame |
| --- | --- | --- | --- |
| Ireland | €6.50 | Free! | 3-7 working days |
| Northern Ireland | €6.50 | Free! | 3-7 working days |
| UK | €12.00 | €15.00 | 3-7 working days |
| Europe | €17.00 | €25.00 | 3-7 working days |
| USA & Canada | €35.00 | €50.00 | 7-14 working days |
| Rest of the World | €50.00 | €50.00 | 7-21 working days |
| **Trade | and | School | Customers** |
| --- | --- | --- | --- |
| Country Zone | Under €500 | Above €500 | TimeFrame |
| Ireland | €6.00 | Free! | 3-7 working days |
| Northern Ireland | €6.00 | Free! | 3-7 working days |
| UK | €12.00 | Free! | 3-7 working days |
Please Note:
• Click and collect orders are "free" as there is no shipping involved.
• If the order after discount is applied is below €50 or €500 (trade or School orders), shipping will be charged.
• EUA, Canada and Rest of the World shipping charges are for parcels with maximum weight of 2kg.
• These time frames are a guide and shipping times may vary, especially at busy periods.
• Please allow a few days leeway for personalised products or pre-orders.
• We are aware of some shipping delays throughout Europe and the USA caused by unforcing circusntances or territorial border control restrictions. This is out of our control. Please allow a few days leeway for your delivery.
• Subject to placing your order before 12:30pm. Does not apply to pre-ordered items.
• Check on our Delivery Policy page, the delivery areas. We do not deliver to Channel Islands or the Isle of Man.
Description
It took nearly two millennia for the enemies of the Catholic Church to realize they could not successfully attack the Church from the outside. Indeed, countless nemeses from Nero to Napoleon succeeded only in creating sympathy and martyrs for our Catholic Faith.

That all changed in the mid-19th century, when clandestine societies populated by Modernists and Marxists hatched a plan to subvert the Catholic Church from within. Their goal: to change Her doctrine, Her liturgy, and Her mission.

In this captivating and carefully documented book, Dr. Taylor Marshall pulls back the curtain on their nefarious plan, showing how these enemies of Christ strategically infiltrated the seminaries, then the priesthood, then the episcopacy, and eventually the cardinal-electors all with the eventual goal of electing one of their own as pope.

You'll come to see that the seemingly endless scandals plaguing the Church are not the result, as so many think, of cultural changes, or of Vatican II, but rather the natural consequences of an orchestrated demonic plot to destroy the Church.

In these gripping pages, you'll discover:

How popes of the 1800s discovered a plot to infiltrate the Church
How theologians suspected of being Modernists became Vatican powerbrokers.
How modifications in Catholic canon law enabled predator priests like Theodore McCarrick to stay in positions of power.
How Our Lady of La Salette gave a prophetic warning of the plot to infiltrate the Church.
How the chief architect of liturgical reforms was discovered to be a Freemason.
Archbishop Fulton Sheen's role in exposing the Communist infiltration of the priesthood.
How the confusing history of the Third Secret of Fatima relates to the infiltration of the Catholic Church.
That Pope Paul VI explained that Vatican II was not infallible.
How Pope Paul VI revoked the voting rights of cardinals over 80, thus guaranteeing that all voting cardinals were appointed by him.
How the criteria for sainthood shifted from a person's historical acts to his personal beliefs.
The complex roots of the St. Gallen Mafia and how they plotted to modify Catholic doctrine and elect Pope Francis.