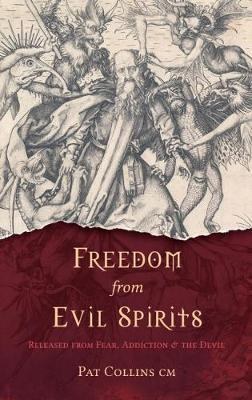 PRODUCT CODE: 9781782183525
Freedom from Evil Spirits Released from Fear
€12.99
Product Details
Extent: Paperback
Pages: 100
Size: 21 x 13.2 x 2 cm
Publisher: Columba Press
Customer Reviews (1)
Customer Reviews
Average rating:
---
Excellent
One of the more balanced books out there on this subject. It's a must for anyone who believes they need help in this area. I just wish the Church in Ireland had more like Fr Collins, working in this area of pastoral care.
— Doris Long
Delivery
Click and Collect - Free
Click & Collect is available across Ireland and Northern Ireland in our Veritas stores. We will contact you when your item(s) are ready for collection. Please visit your branch after you receive contact from us that your items are available to collect. The order will be ready for you within 2-5 working days, subject to opening hours, order volumes, if the item is in stock and time order is placed.
Standard Express Delivery
Complimentary shipping within Ireland & Northern of Ireland is available on orders over €50, delivery fees will be added according to the area of delivery, as described below:
| Country Zone | Under €50 | Over €50 | TimeFrame |
| --- | --- | --- | --- |
| Ireland | €4.99 | Free! | 3-7 working days |
| Northern Ireland | €4.99 | Free! | 3-7 working days |
| UK | €12.00 | €15.00 | 3-7 working days |
| Europe | €17.00 | €25.00 | 3-7 working days |
| USA & Canada | €35.00 | €50.00 | 7-14 working days |
| Rest of the World | €50.00 | €50.00 | 7-21 working days |
| **Trade Customers** | | | |
| --- | --- | --- | --- |
| Country Zone | Under €500 | Above €500 | TimeFrame |
| Ireland | €6.50 | Free! | 3-7 working days |
| Northern Ireland | €6.50 | Free! | 3-7 working days |
Please Note:
• These time frames are a guide and shipping times may vary, especially at busy periods.
• Please allow a few days leeway for personalised products or pre-orders.
• We are aware of some shipping delays throughout Europe and the USA caused by unforcing circusntances or territorial border control restrictions. This is out of our control. Please allow a few days leeway for your delivery.
• Subject to placing your order before 12:30pm. Does not apply to pre-ordered items.
• Check on our Delivery Policy page, the delivery areas. We do not deliver to Channel Islands or the Isle of Man.
• The shipping cost will depend on the weight of your order and this will be calculated at checkout.
Description
This is a guide on how we can free ourselves from the many debilitating influences that can take a stronghold in our lives, from fear and addiction to oppressive evil spirits. Though fear is a natural emotion, and addictions are forms of illness, nevertheless the devil can exploit them in order to lead people towards sin and away from God. Written from his personal experience of dealing with his own fears and anxieties, his research into the various forms of addiction that can ruin lives and his own encounters with evil through his work as an exorcist, Fr Collins offers practical advice on how to overcome these afflictions. While Fr Collins says possession is a very rare occurrence, he is regularly contacted by people who in their own minds believe rightly or wrongly that they re afflicted by an evil spirit. This book hopes to offer support for people in this situation who feel they have no one to turn to for help, or for those seeking to help.