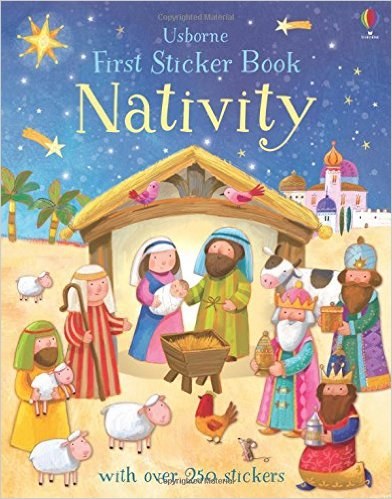 PRODUCT CODE: 9781474919074
Christmas
First Sticker Book Nativity
€7.25
Product Details
Extent: Paperback
Pages: 24
Size: 277 mm x 218 mm
Publisher: Usborne Publishing Ltd
Delivery
Click and Collect - Free
Click & Collect is available across Ireland and Northern Ireland in our Veritas stores. We will contact you when your item(s) are ready for collection. Please visit your branch after you receive contact from us that your items are available to collect. The order will be ready for you within 2-5 working days, subject to opening hours, order volumes, if the item is in stock and time order is placed.
Standard Express Delivery
Complimentary shipping within Ireland & Northern of Ireland is available on orders over €100, delivery fees will be added according to the area of delivery, as described below:
Country Zone
Under €100
Over €100
TimeFrame
Ireland
€6.50
Free!
3-7 working days
Northern Ireland
€6.50
Free!
3-7 working days
| Country Zone | Under €50 | Over €50 | TimeFrame |
| --- | --- | --- | --- |
| Europe | €17.00 | €25.00 | 3-7 working days |
| USA & Canada | €35.00 | €50.00 | 7-14 working days |
| Rest of the World | €50.00 | €50.00 | 7-21 working days |
| **Trade | and | School | Customers** |
| --- | --- | --- | --- |
| Country Zone | Under €500 | Above €500 | TimeFrame |
| Ireland | €6.50 | Free! | 3-7 working days |
| Northern Ireland | €6.50 | Free! | 3-7 working days |
| UK | €12.00 | Free! | 3-7 working days |
Please Note:
• Click and collect orders are "free" as there is no shipping involved.
• If the order after discount is applied is below €100 or €500 (trade or School orders), shipping will be charged.
• EUA, Canada and Rest of the World shipping charges are for parcels with maximum weight of 2kg.
• These time frames are a guide and shipping times may vary, especially at busy periods.
• Please allow a few days leeway for personalised products or pre-orders.
• We are aware of some shipping delays throughout Europe and the USA caused by unforcing circusntances or territorial border control restrictions. This is out of our control. Please allow a few days leeway for your delivery.
• Subject to placing your order before 12:30pm. Does not apply to pre-ordered items.
• Check on our Delivery Policy page, the delivery areas. We do not deliver to Channel Islands or the Isle of Man.
Description
Little children can bring the Nativity story to life with this enchanting sticker book. There are colourful scenes of Mary and Joseph's journey to Bethlehem, Jesus' birth, the arrival of the shepherds and the Three Wise Men, and 230 stickers of people, animals and angels to add to the pages. A lovely introduction to the Christmas story.

About the Author:
Felicity has worked for Usborne for over 30 years and has written and edited hundreds of titles, from books on tractors to genetics, from Shakespeare to mental health, and plenty of sparkly unicorns. Felicity is an expert in making tricky topics friendly and accessible to young children and recently has been writing books that celebrate feelings, friendship, empathy, families, and diversity. When she's not writing or researching very specific details on dinosaurs, Felicity can be found tramping through fields and forests foraging for food or just curled up with a bag of Twiglets, a couple of cats and a crossword.