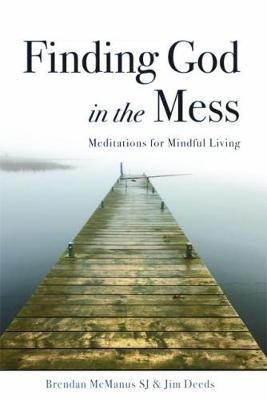 PRODUCT CODE: 9781910248843
New Beginnings
Finding God in the Mess: Meditations for Mindful Living
€9.95
Product Details
Extent: Paperback
Pages: 72
Size: 14 x 0.8 x 20.8 cm
Publisher: Messenger Publications (29 Sept. 2017)
Delivery
Click and Collect - Free
Click & Collect is available across Ireland and Northern Ireland in our Veritas stores. We will contact you when your item(s) are ready for collection. Please visit your branch after you receive contact from us that your items are available to collect. The order will be ready for you within 2-5 working days, subject to opening hours, order volumes, if the item is in stock and time order is placed.
Standard Express Delivery
Complimentary shipping within Ireland & Northern of Ireland is available on orders over €50, delivery fees will be added according to the area of delivery, as described below:
| Country Zone | Under €50 | Over €50 | TimeFrame |
| --- | --- | --- | --- |
| Ireland | €6.50 | Free! | 3-7 working days |
| Northern Ireland | €6.50 | Free! | 3-7 working days |
| UK | €12.00 | €15.00 | 3-7 working days |
| Europe | €17.00 | €25.00 | 3-7 working days |
| USA & Canada | €35.00 | €50.00 | 7-14 working days |
| Rest of the World | €50.00 | €50.00 | 7-21 working days |
| **Trade | and | School | Customers** |
| --- | --- | --- | --- |
| Country Zone | Under €500 | Above €500 | TimeFrame |
| Ireland | €6.00 | Free! | 3-7 working days |
| Northern Ireland | €6.00 | Free! | 3-7 working days |
| UK | €12.00 | Free! | 3-7 working days |
Please Note:
• Click and collect orders are "free" as there is no shipping involved.
• If the order after discount is applied is below €50 or €500 (trade or School orders), shipping will be charged.
• EUA, Canada and Rest of the World shipping charges are for parcels with maximum weight of 2kg.
• These time frames are a guide and shipping times may vary, especially at busy periods.
• Please allow a few days leeway for personalised products or pre-orders.
• We are aware of some shipping delays throughout Europe and the USA caused by unforcing circusntances or territorial border control restrictions. This is out of our control. Please allow a few days leeway for your delivery.
• Subject to placing your order before 12:30pm. Does not apply to pre-ordered items.
• Check on our Delivery Policy page, the delivery areas. We do not deliver to Channel Islands or the Isle of Man.
Description
Modern lives can be very busy, saturated by technology and media, but there isn't always time for happiness. As this book proves, it is the time out, the ability to look back and understand life events that brings about deeper, more satisfying living. Life is difficult but not impossible, and can be rich and fulfilling. Difficult situations of conflict, stress and worry arise, as do pleasant situations, but there are ways through the challenges. It is essential to believe that there is something positive in everything, that God is in it somewhere, and that we can get through with help. The spirituality of St Ignatius teaches us that God holds us close, loves us and desires the best for us. It is a solid foundation that we can build our lives on, it is an anchor in the storms of life, and it brings me though even the darkest hours. These mediations can be used by readers as a daily prayer source, for morning, daytime or evening prayer. They are also ideal for parish groups who might read a reflection and then come together for discussion. The book's accessibility makes it an excellent step on the spiritual path for someone seeking or returning to acknowledge God in their lives. In this way it would make a perfect gift for someone inviting another to consider "God in all things".