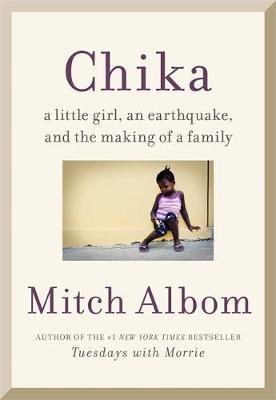 PRODUCT CODE: 9780751571936
Finding Chika : A Little Girl, an Earthquake, and the Making of a Family
€16.99
Product Details
Extent: Hardcover
Pages: 256
Size: 144 x 218 x 28mm | 385g
Publisher: Little, Brown Book Group
Delivery
Click and Collect - Free
Click & Collect is available across Ireland and Northern Ireland in our Veritas stores. We will contact you when your item(s) are ready for collection. Please visit your branch after you receive contact from us that your items are available to collect. The order will be ready for you within 2-5 working days, subject to opening hours, order volumes, if the item is in stock and time order is placed.
Standard Express Delivery
Complimentary shipping within Ireland & Northern of Ireland is available on orders over €50, delivery fees will be added according to the area of delivery, as described below:
| Country Zone | Under €50 | Over €50 | TimeFrame |
| --- | --- | --- | --- |
| Ireland | €4.99 | Free! | 3-7 working days |
| Northern Ireland | €4.99 | Free! | 3-7 working days |
| UK | €12.00 | €15.00 | 3-7 working days |
| Europe | €17.00 | €25.00 | 3-7 working days |
| USA & Canada | €35.00 | €50.00 | 7-14 working days |
| Rest of the World | €50.00 | €50.00 | 7-21 working days |
| **Trade | and | School | Customers** |
| --- | --- | --- | --- |
| Country Zone | Under €500 | Above €500 | TimeFrame |
| Ireland | €6.00 | Free! | 3-7 working days |
| Northern Ireland | €6.00 | Free! | 3-7 working days |
| UK | €12.00 | Free! | 3-7 working days |
Please Note:
• Click and collect orders are "free" as there is no shipping involved.
• If the order after discount is applied is below €50 or €500 (trade or School orders), shipping will be charged.
• EUA, Canada and Rest of the World shipping charges are for parcels with maximum weight of 2kg.
• These time frames are a guide and shipping times may vary, especially at busy periods.
• Please allow a few days leeway for personalised products or pre-orders.
• We are aware of some shipping delays throughout Europe and the USA caused by unforcing circusntances or territorial border control restrictions. This is out of our control. Please allow a few days leeway for your delivery.
• Subject to placing your order before 12:30pm. Does not apply to pre-ordered items.
• Check on our Delivery Policy page, the delivery areas. We do not deliver to Channel Islands or the Isle of Man.
Description
Chika Jeune was born three days before the devastating earthquake that decimated Haiti in 2010. She spent her infancy in extreme poverty, and when her mother died giving birth to a baby brother, Chika was brought to the Have Faith Haiti Orphanage that Mitch and his wife, Janine operate.

Chika's arrival made a quick impression. Brave and self-assured, even as a three-year-old, she delighted the other kids and teachers. But at age five, Chika was suddenly diagnosed with a terminal disease that no doctor in Haiti could help with.

Mitch and Janine took Chika to America, hoping that treatment there would enable her to go back home. Instead, Chika became a permanent part of their lives, as they embarked on a two-year, around-the-world journey to find a cure. As Chika's boundless optimism and humour taught Mitch the joys of caring for a child, he learnt that a relationship built on love, no matter what blows it takes, can never be lost.

This is Mitch Albom at his most poignant, powerful and personal. Chika is a celebration of a girl, her adoptive guardians, and the incredible bond they formed - a devastatingly beautiful portrait of what it means to be a family, regardless of how it is made.