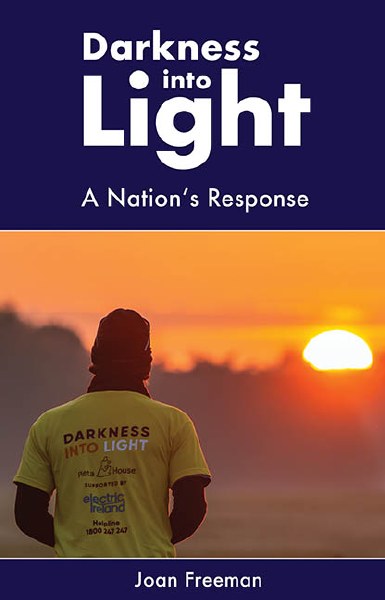 PRODUCT CODE: 9781800970304
Darkness into Light: A Nation's Response
€16.99
Product Details
Extent: Paperback
Pages: 166
Size: 215 mm x 138 mm
Publisher: Beehive Books
Delivery
Click and Collect - Free
Click & Collect is available across Ireland and Northern Ireland in our Veritas stores. We will contact you when your item(s) are ready for collection. Please visit your branch after you receive contact from us that your items are available to collect. The order will be ready for you within 2-5 working days, subject to opening hours, order volumes, if the item is in stock and time order is placed.
Standard Express Delivery
Complimentary shipping within Ireland & Northern of Ireland is available on orders over €50, delivery fees will be added according to the area of delivery, as described below:
| Country Zone | Under €50 | Over €50 | TimeFrame |
| --- | --- | --- | --- |
| Ireland | €4.99 | Free! | 3-7 working days |
| Northern Ireland | €4.99 | Free! | 3-7 working days |
| UK | €12.00 | €15.00 | 3-7 working days |
| Europe | €17.00 | €25.00 | 3-7 working days |
| USA & Canada | €35.00 | €50.00 | 7-14 working days |
| Rest of the World | €50.00 | €50.00 | 7-21 working days |
| **Trade Customers** | | | |
| --- | --- | --- | --- |
| Country Zone | Under €500 | Above €500 | TimeFrame |
| Ireland | €6.50 | Free! | 3-7 working days |
| Northern Ireland | €6.50 | Free! | 3-7 working days |
Please Note:
• These time frames are a guide and shipping times may vary, especially at busy periods.
• Please allow a few days leeway for personalised products or pre-orders.
• We are aware of some shipping delays throughout Europe and the USA caused by unforcing circusntances or territorial border control restrictions. This is out of our control. Please allow a few days leeway for your delivery.
• Subject to placing your order before 12:30pm. Does not apply to pre-ordered items.
• Check on our Delivery Policy page, the delivery areas. We do not deliver to Channel Islands or the Isle of Man.
• The shipping cost will depend on the weight of your order and this will be calculated at checkout.
Description
'This is the story of how love brought light out of the darkness. It is for us all.' (Dr Harry Barry, GP and bestselling author)
'Intimate, honest, and a beautiful chronicle of the genesis of what is now one of Ireland – and the world's – most important charity events.' (Joe Houghton, former chairperson of Pieta House)

About the book
Darkness into Light: A Nation's Response tells the story of the birth of a national and international movement that, every year, brings hundreds of thousands of people together to walk and remember those who have died by suicide. Taking place at dawn on a Saturday in May, this annual fundraising event in aid of Pieta House has raised almost €29 million for suicide prevention, both at home and abroad. Thirteen years after the first walk, Joan Freeman recounts how this extraordinary event began and reflects on what it means to the people of Ireland today.
While this walk began with one woman, it quickly belonged to many, as people from all over Ireland raised funds and organised so that a Darkness into Light walk could take place in their town or city. The book pays homage to these volunteers who, often driven by their own grief, were determined to soothe the pain of others. This determination went on to capture the imaginations of people throughout Ireland and around the world.
With a foreword by Taoiseach Micheál Martin and an afterword by Tánaiste Leo Varadkar, Darkness into Light: A Nation's Response provides a deeply moving account of how a single idea, along with an unwavering belief, can become a catalyst for real societal change.

About the author
Joan Freeman is the founder of Pieta House and Darkness into Light. She was a senator in Seanad Éireann from 2016 to 2020. In 2018 she was a candidate in the presidential election.