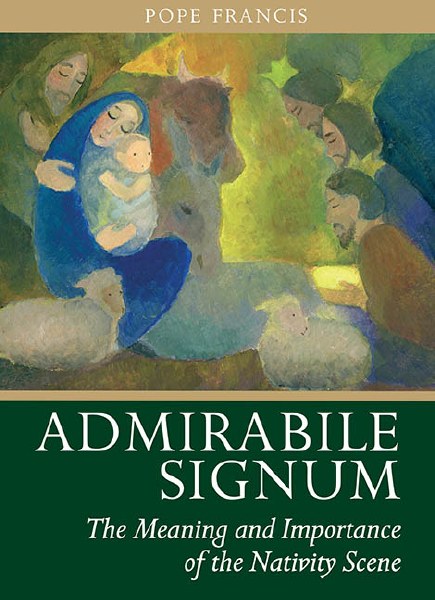 PRODUCT CODE: 9781847309631
Advent
Admirabile Signum: Apostolic Letter on the Meaning and Importance of the Nativity Scene
€5.99
Product Details
Extent: Saddlestitched and full colour
Pages: 24
Size: 180 mm x 130 mm
Publisher: Veritas Publications
Delivery
Click and Collect - Free
Click & Collect is available across Ireland and Northern Ireland in our Veritas stores. We will contact you when your item(s) are ready for collection. Please visit your branch after you receive contact from us that your items are available to collect. The order will be ready for you within 2-5 working days, subject to opening hours, order volumes, if the item is in stock and time order is placed.
Standard Express Delivery
Complimentary shipping within Ireland & Northern of Ireland is available on orders over €100, delivery fees will be added according to the area of delivery, as described below:
Country Zone
Under €100
Over €100
TimeFrame
Ireland
€6.50
Free!
3-7 working days
Northern Ireland
€6.50
Free!
3-7 working days
| Country Zone | Under €50 | Over €50 | TimeFrame |
| --- | --- | --- | --- |
| Europe | €17.00 | €25.00 | 3-7 working days |
| USA & Canada | €35.00 | €50.00 | 7-14 working days |
| Rest of the World | €50.00 | €50.00 | 7-21 working days |
| **Trade | and | School | Customers** |
| --- | --- | --- | --- |
| Country Zone | Under €500 | Above €500 | TimeFrame |
| Ireland | €6.50 | Free! | 3-7 working days |
| Northern Ireland | €6.50 | Free! | 3-7 working days |
| UK | €12.00 | Free! | 3-7 working days |
Please Note:
• Click and collect orders are "free" as there is no shipping involved.
• If the order after discount is applied is below €100 or €500 (trade or School orders), shipping will be charged.
• EUA, Canada and Rest of the World shipping charges are for parcels with maximum weight of 2kg.
• These time frames are a guide and shipping times may vary, especially at busy periods.
• Please allow a few days leeway for personalised products or pre-orders.
• We are aware of some shipping delays throughout Europe and the USA caused by unforcing circusntances or territorial border control restrictions. This is out of our control. Please allow a few days leeway for your delivery.
• Subject to placing your order before 12:30pm. Does not apply to pre-ordered items.
• Check on our Delivery Policy page, the delivery areas. We do not deliver to Channel Islands or the Isle of Man.
Description
About the book
'The nativity scene is akin to a living Gospel rising up from the pages of sacred Scripture. As we contemplate the Christmas story, we are invited to set out on a spiritual journey, drawn by the humility of the God who became man in order to encounter every man and woman.' (Pope Francis, Admirabile Signum, 1)
In this typically heart-warming apostolic letter, Pope Francis explores the meaning of the nativity scene, its origins, and the untold importance it has for society today. With references to the first nativity scene, attributed to St Francis of Assisi in Greccio, Italy, Pope Francis explores the history of the crib and its profound and everlasting symbolism. He also explores its implication for Christians today, at a time when, despite great wealth and prosperity, so many in society are told that there is 'no room at the inn'.

Royalties from this title will go the Peter McVerry Trust.